Out of all the card games there are, baccarat is quite possibly the easiest to pick up and get started with. The object of the game is pretty simple, and it only requires three cards. The idea is that you try to get the cards in your hand to total 9 and if you can get 9 with only using your first two cards, then the third isn't necessary.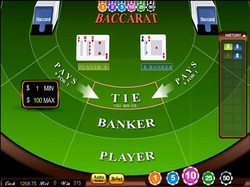 As with most card games, baccarat is a game that relies mostly on chance. This being said, if you have experience playing, you do have a better shot at winning even though it's largely based on luck. Throughout the game, there are various things that can influence how the cards will play out, so even though luck makes up the majority of the game, being able to realize what's going to happen before it happens is a powerful asset.
You will find that many of the experts or high-roller players who play baccarat for big money will often invest thousands of dollars in strategy guides and books teaching how to better understand the game and it's mechanics. This actually helps them build and develop their own custom strategy and keep them focused and able to make the best decisions when the pressure is on.
When the bets are introduced, it's also a fairly simple concept. You have to decide whether the banker will beat the player or the player will beat the banker. In the case of a tie, the player automatically beats the banker. This being said, many people feel that betting on a tie is a wise choice. To put it simply, it's not, in fact it's the worst move you can make! The chances of either the banker or the player winning are much higher than a tie occurring, so never bet on the tie, it's just a bad move.
Now that we're on the topic of betting, you need to keep in mind that you always should be in control of your money. Don't let a system manage it for you like Martingale would. You need to establish ahead of time what you're going in with and willing to lose. Once you've lost it, you need to have enough self-control to walk away and try next time after you've set yourself another limit. Those people who don't do this are the ones who end up becoming a slave to the game or just making unwise financial decisions because of the adrenaline rush rather than wise thought.
One of the best ways to get better quickly is to observe and participate as much as possible. Again, you need to limit yourself and not spend tons of money in the name of participation, but when you have enough extra money that you're wanting to potentially throw away, give it a shot and try to learn everything you can during that time. On top of this, you can just observe other games while people play and do what you can to make it a learning experience. This being said, I would recommend you be sober while doing this so that you can grasp as much information as possible without being impaired by alcohol or other substances.
Lastly, the most important thing is to stay in control of your money and play smart. Just because you're about to lose what you put up doesn't mean you should run to the ATM and grab more money to try and win it back. If you go into it willing to lose it, it's not a big deal if that's what happens. Just continue saving up and next time you go to play, you have your shot at winning it all back again!
Be sure to read our
online casino reviews
to determine where you should
play baccarat online
.