Gambling scams, and other forms of betting ripoffs, were never really considered as such a widespread issue until online gambling was introduced in the 1990's. More than likely, the biggest reason for this is because of the privacy an immoral company can hide behind when setting up a gambling website on the internet, combined with the fact that they're targeting players that can participate from the comfort of their own home and in any mindset.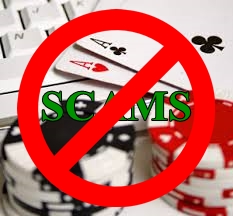 One of the most common ways for players to be scammed is actually the refusal of funds. Believe it or not, this is actually carried out by the owners of the websites as opposed to the opponents who are also participating in the online gaming. This being said, many people want to do all they can to avoid being put in a situation like this, so here are two of the most popular scams that are offered around the internet:
Piracy
Possibly the biggest giveaway of an online gambling scam is when the website doesn't have any credibility. You can typically check on sites like the Interactive Gaming Council (ICG) and make sure that the particular site you're questioning is listed there as an official partner. Many times sites will actually copy the certification logos and place them on their site even when they aren't really certified. As I mentioned, the way to solve this is to simply look up the members list as well as verify the certification they claim to have. You could also browse the internet for reviews of that particular online casino and if they're involved in shady business, chances are there will be someone who will have shared their experience and you can be alerted before you become a victim as well.
Illegitimate Bonuses
You will often find that those who have been scammed in the past will be contacted by another casino seeking to acquire their business and sympathize with their loss. More often than not, they offer you a crazy bonus in order to make up for your bad experience elsewhere and they say they want your business instead. While this sounds well and good on paper, in the end, they're just looking for you to start making your deposits and then they never actually let you cash out on those bonuses they tempted you with.
The best thing to keep in mind when you're presented this type of offer is how could they have possibly gotten your contact information? If you submitted it to a shady site previously, chances are they acquired it from them and are now looking to take advantage of you once again.
As with most things in life, the best way to catch a scam is to keep in mind that if it appears too good to be true, it probably is. Or as a good friend of mine says, "if it looks too good to be true, it's probably too good to be legal." If you come across something that seems shockingly amazing, keep your guard up and play it safe. In the end you might find out that it was actually legitimate, but you're better off playing it safe than being sorry later. For a list of some of the internet's most reputable online casinos, read our independent
online casino reviews
.