Households throughout the Garden State are now being bombarded with advertisements on both television and radio that proclaim the news that online gambling is finally legal within the state of New Jersey. Billboards along the major highways and advertising in places such as strip malls and even on local websites are further helping to communicate the message that it is now perfectly legal for residents to gamble money over the internet.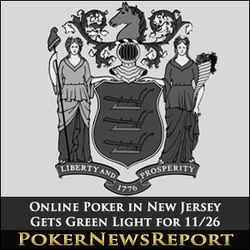 This massive marketing campaign is being paid for by both the traditional Atlantic City casinos and several online gaming companies. If the sheer amount of money being spent on advertising is any indication, these businesses expect internet betting to be the next big thing for the industry. In fact, many industry insiders believe that this could very well be the biggest expansion of gambling within the state since the very first casinos were allowed to open all the way back in 1978. Atlantic City's embrace of online gambling also highlights the struggles of gambling establishments in the city to grow revenue in recent years. Because of this, they're betting heavily on gambling via the internet adding heavily to their bottom lines.
"They are using every angle they can," said industry expert Donald Hoover. Hoover is a professor who has studied the state gambling businesses for years. "They are spending a lot of money."
Casinos and their partners have purchased multiple spots on cable television throughout the state. New Jersey is the only place where the businesses can offer these online gambling services. That hasn't stopped some of them from advertising to people as far away as New York City, however, where air time costs are exceedingly high compared to other parts of the country.
Additional advertising is to be expected as the rollout of online gambling services continues. Caesars Entertainment, for example, which runs two internet gambling websites through the four Atlantic City casinos which the company owns, plans to begin a new media blitz in mid January.
"We will empty our pockets of advertising dollars," said Caesars spokesperson Seth Palansky. He later added that the casino would see how effective their investment has been by looking at the way things are a year from now in terms of revenue and growth.
The companies are heavily invested in the idea of online gambling, which they view as a new industry entirely different from the brick and mortar casinos located in Atlantic City. It was only last month that the state regulators began approving applications for online gambling websites. Now, companies such as Betfair in partnership with Trump Plaza are doing their best to explain how online gambling works to prospective customers. This requires money for additional advertising and air time.
One recent television spot boasts of the convenience of such websites for active gamblers. "Play Betfair casino anywhere," the spokesman says as two customers are shown gambling in various locations, including in New York City and in a basketball stadium using their tablet computers. Industry analysts say that given the complex nature of online gaming, such messages are hard to communicate to the prospective customer in one single advertisement. Instead, the casinos and their partners must rely on the effectiveness of marketing campaigns to get their points across.
"It's important to get started immediately," said John Shepherd, who is a spokesman for bwin.party, the company running multiple online gaming websites in the state through their partnership with Borgata. "That means advertising from day one."
For a complete list of all the top online poker rooms for all US Players, click here!
Companies such as bwin.party and Betfair, who have forged expensive partnerships with Atlantic City casinos, have risked large sums of cash to enter what they hope is a lucrative gambling market in the state of New Jersey. The casinos themselves have struggled in recent years, with the total revenue between them falling by forty percent since 2006 and half of the dozen Atlantic City casinos filing for bankruptcy. In fact, just recently Atlantic Club casino was sold to competitors during a special bankruptcy auction and the doors of the facility are to be shuttered on January 13th. So obviously the remaining casinos have a lot at stake when it comes to promoting internet gaming as a way to raise much-needed revenue.
Governor Chris Christie and his economic team are anticipating that online gaming will bring in as much as $1 billion in additional revenue during the first six months of 2014. Many analysts who have been interviewed, however, expect less of a boost from the online services. While over 91,000 accounts have been created, the number of those who are actively playing online have not been released.
"Were going to have to make progress in Atlantic City or consider alternatives," Christie said in a recent interview. He went on to suggest that this was a pivotal year for the remaining casinos within the city, which would ultimately decide if most of them survived or not.
The internet betting companies who have partnered with state casinos view what is happening in New Jersey as only the beginning. Many other states are considering legislation which would legalize online gaming and allow for residents to play through state licensed websites. Some companies, many from Europe and elsewhere abroad, have entered the New Jersey market in the hope that it will make their participation in other states all the more easier.
"Many operators from Europe know this is the most significant opportunity within the United States," Hoover said.
Experts have raised ethical concerns about the widespread marketing of online gambling services. In New Jersey alone, there are an estimated 350,000 compulsive gamblers who may be vulnerable to such advertising campaigns. Many of these people are still in recovery and the idea of being able to gamble anywhere including in the comfort of one's own home may be too enticing of an offer for many of them to pass up.
Casino spokespersons have stated that safeguards are in place to prevent problem gamblers from accessing online websites and playing. However, Olivia Toubia, a marketing professor who teaches at Columbia University, said that companies have a bigger obligation when considering the effects of advertising. "It's an addictive product," she said during an interview. "It's similar to advertising alcohol and other addictive products." She later added that advertising influences people and that consumers usually give in to the effects of effective marketing campaigns.
Thanks for reading! For a complete list of the top online casinos for all US Players, click here.