To win at blackjack you do not need great bluffing skills as you do with a game of poker. Nor do you need a great deal of luck when spinning the roulette wheel or trying your hand at the slot machine.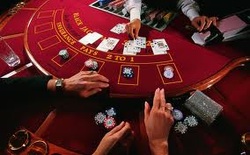 In order to win in the game of blackjack, what you really need is the ability to take risk. This risk taking ability is worth it as blackjack is the game that offers the best risk rewards ratio. Hence when you play a game of blackjack aim to win and not let the risk bother you too much.
The following tips can also raise the odds in your favor.
Blackjack Tip #1
- Bankroll Management.
The first thing you have to do, before you even begin to play blackjack, is determine a set amount of money that you are going to be comfortable with. Never wager uncomfortable amounts. And never bring more money to the casino, or deposit more money to an online casino, than you can afford to lose. You never know when the cards are going to be dealt in your favor, or disfavor.
Once your blackjack bankroll has been determined, it's highly recommended to play at a table where the maximum wager is approximately 5% or less of this amount. You don't want to go broke after playing just a couple of hands. By playing at a blackjack table that has a maximum bet of around 5% of your bankroll, it will enable you to be able to stick around long enough to get in a groove.
Blackjack Tip #2
– Insurance is Secondary. Play to Win.
In a game of blackjack you always gamble against the dealer alone, you have no other opponent. It is true that you need to know the hand dealt to the other players to calculate the probability of your cards being winners. But far more important factor is to focus on how to beat the dealer's cards.
Therefore taking insurance is like betting against yourself. Avoid it as much as you can.
Blackjack Tip #3
– Know The Rules of Splitting
When you are dealt a pair of the same value is your first cards, you always have the option to play them separately by splitting your cards into two, this option is okay as long as you bet the same amount on each card.
Most players do not use this strategy well, either they never split their cards or they always split their cards. There is actually a way to improve your chance of winning at blackjack using this strategy that can be applied to this situation. For example, if you have two 10's or two 5's, it is not advisable to split them but simply stay with them. But when you have two 8's or 7's and the dealer shows you a card in value lower or equal like 6 or 5, that is the time you should split your cards. Another rule is that when you come to have face cards, it is advisable to never split them but when it is aces, you should split them immediately.
Blackjack Tip #4
– Optimum Use of Double Down
When you feel that the first two cards that have been dealt to you are very good, you have the option of doubling your bet or doubling down. In fact this is the best opportunity you will get as a blackjack player, so never let the opportunity to double down slip from your hand. This is the point to be most aggressive, especially is you feel the situation is right.
Hope you enjoyed the tips and are raring to go. If you feel the new knowledge has given you an edge go play blackjack now. Practice is the best way to make use of this new found knowledge. If you want to play blackjack online, be sure to see our
Casino Page
to find the internet's
best online casinos
.