If you're looking to find which casino games give you the best odds, you're in the right place. Each casino game you'll come across will offer different odds, but just about every one will be in favor of the house. But there are some ways to reduce the edge the house has. In order to know how to get the best casino odds, you have to understand what you're up against. Here I'll fully educate your on the standard probabilities, and general odds of each casino game.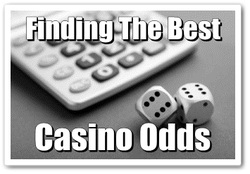 Odds Primer

As you know, odds are the mathematical formula behind the probability that a certain outcome will play out in a given situation or circumstance. Typically, this data is given in the format of a fraction or decimal. For example, if you flip a coin before a football game, it's easy to understand that there's a 50% chance that whichever side you picked will be the side that lands face up. This could be written as 1/2 or one out of two and most people will say it's a fifty-fifty chance. This is a basic example, but the point stands that it is possible to predict the probability or odds of a particular result occurring.

If you take that same concept and apply it to a roulette wheel, a dice, or playing cards, you're then able to predict the probability of a particular result again. on a roulette wheel, there are 37 or 38 slots, on a dice, there are 6 sides, and there are 52 cards in a deck, so each of those numbers can help you create a prediction. Many people don't realize that all these games are math-based and instead, they're just having some fun and hoping for the best. If you stop and take the time to think through each bet, you'll find that there are certain bets you can take that will increase your odds of winning, it's really not that hard. Now that you're putting some thought into this, I'm sure you realize that applying a little bit of strategy into your gambling can turn your whole game around and have you walk away a winner rather than a disappointed loser.

All that being said, here's a few games that offer better odds than the rest:

Everybody knows that casinos make their money off the players and that's how they're able to afford such an extravagant building. In every casino game, there's something called the "house edge". This is where the casino has an advantage to win and the percentage of that advantage varies from game to game. The percentage is there to represent the probable winnings the casino will make for every bet that's made by a player. As an example, in double zero roulette, the house edge is 5.6%, so every 100 units wagered, they can expect to profit 5.60 and in turn, you can expect to lose that 5.60. While this doesn't seem like a lot, there are multiple other variables that you need to take into account first.

Let's take a look at blackjack in order to better illustrate the point here. If the table is averaging 60 hands an hour and you're playing 25 units a hand, when you multiply 60 and 25 that brings 1,500 units through in only one hour. Now, if you take that and instead of playing for only one hour and you play for four hours, you've just run through 6,000 units and the casino can expect to have made 0.8% of that as profit. If you total this up by unit, you can expect to have lost only 48 units in that time, so that makes blackjack a popular game because of the lower expected loss. Again, there are other variables involved which could affect this, so keep that in mind.

If we now combine the two examples and see how much profit the casino could expect to accumulate if you played roulette for four hours, you'd see that the loss is greater than that during blackjack. Since the pace of roulette is slower than blackjack, we could estimate that you'd complete only 30 rounds in an hour and if you still average 25 units a round, you could expect to lose 157.80 in that timeframe. Once again, this doesn't seem too high considering this was spread over four hours, but if you take this and multiply it by every person playing or even every time you go out and play, you'd see how the numbers add up extremely quickly and it's not so unreasonable to understand how these casinos make such high profits.


Expectations

There are many players who gamble for the fun or novelty of it. Let's face it, spending some time at a casino with your friends can be quite enjoyable and there's absolutely nothing wrong with that, but for those who consider themselves serious gamblers, they need to consider the time invested and whether it's profitable. Many recreational players don't mind losing, because they consider it money spent for a little fun, but as a serious gambler, you need to make sure that you're turning a profit or else you're just wasting your time. As mentioned before, the first step in increasing your odds of winning is staying away from games with high house advantages. As an example, Keno is known to be one of the worst games to play if you're looking to win, because the house odds are 25% at best! If you can manage to pick a good game to start, you're already heading in the right direction and from there you can tweak how you play and lower the house odds even further.

Below is a chart showing the estimated house edge for each game listed. As you can imagine, these do fluctuate quite frequently, but this list will give you a general idea of where each game stands so that you're aware before you begin playing. If you want to get more precise, you can examine a specific casino and check the monthly ranking of the payout percentages and this will give you a much more targeted number to base your decisions off of.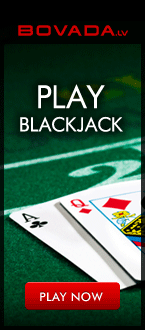 Craps (double odds) - 0.60%

Blackjack - 0.80%

Baccarat (banker) - 1.17%

Baccarat (player) - 1.63%

Pai Gow Poker - 2.5%

Roulette (single zero) - 2.7%

Three-Card Poker - 3.4%

Let It Ride - 3.5%

Sports Betting - 4.5%

Caribbean Stud Poker - 5.26%

Roulette (double zero) - 5.26%

Big 6 Wheel - 11.1% to 24%

Keno - 25%

Now that you've examined the list, it's easy to see that the three games which offer the best odds for the player are craps, blackjack, and baccarat. If you're looking to turn a profit from gambling, these are the three games that you're going to want to focus all your time and attention on. I would suggest that you dabble in each of them and find which you enjoy the most and stick with that one.

As you may already know, blackjack and craps are the two most popular casino games, so you should have no problem gaining experience by both watching and participating in each in order to further hone your skills. If you're not already aware, blackjack is actually one of the only games in which you can completely eliminate the house edge and if you're really good, you can even create an edge for yourself instead! While this isn't easy to accomplish and typically takes hundreds of hours of practice, it is possible and you can gain up to a 2% edge for yourself. As we learned previously, this might not seem like a lot, but over time, the expected profit from this would be somewhere around 30 units an hour. While this may seem disappointing, this is only the probable outcome and this can fluctuate, but this being said, 30 units is much more than minimum wage so you can't really complain!

The bottom line here is to be sure that you start off playing a game that gives you the best edge possible. As with any game, it's possible to shave that house edge down further, but it doesn't make much sense to start with a game where the house edge is 25%. If you've been making this mistake, you'll find that once you switch to a game with a lower house edge, your winnings should immediately increase and with a little practice you should be able to lower the edge even further! Give it a shot and play smart. Also, don't be afraid to just observe or even invest in training books and information. The more you know, the better off you're going to be if you're looking to make a profit from gambling!