Authority for Wynn Interactive to conduct internet gambling with partner Caesars Interactive, a Caesars Entertainment Corp subsidiary, was granted in actions taken in late January but made public on Monday.

Wynn Resorts Ltd. was given the approval by the New Jersey gaming regulators to offer a website on internet wagering within the boundaries of the state. However, the Las Vegas-based casino spokesman said that the company's online gambling efforts are on hold.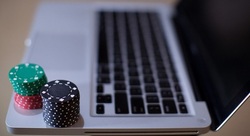 The request made by Wynn and Caesars Interactive was granted by the division on the supervision of the Internet gambling operations with the 888 Atlantic Ltd. (a Gibraltar-based online betting firm 888 holdings affiliate) and the All American Poker Network.
On Monday, Michael Weaver, the Wynn Resorts spokesman said that the company headed by Steve Wynn "doesn't view online gambling as a good entrepreneurial opportunity. Consequently, our plans are on hold until we understand the business opportunity."
Wynn also said, in an interview with Jon Ralston, the political commentator that he now doesn't see a, "business opportunity in online gambling. The technology was impressive if you were a cyber guy. But it was bullshit." This interview where Wynn questioned the technology that's being used to block minors from gambling and to keep track of the players appeared on Ralston's website Sunday.
There are credible sources that said Wynn does not intend on financially supporting Sheldon Adelson's, the Las Vegas Sands Chairman, efforts on halting the online gaming legalization in Washington D.C or in any other state. Wynn happened to just stopped short of calling for an all-out prohibition on the legalized online gaming that was proposed by Adelson.
The transactional waiver that enables the company to offer, with Caesars Interactive, internet gambling was approved to Wynn by New Jersey. The waiver has 2 permits of the New Jersey Internet gambling.
2013 is the year in which Wynn applied for the license.
Seth Palansky, the Caesars Interactive spokesman said, "We are allowing them to use one of our permits."
Including WSOP and the 888 sites, there are 6 gambling websites that Caesars Interactive operates.
In its 1st 6 weeks, $8.4 million was garnered by New Jersey's activities on the online gaming. The Nevada and New Jersey financial results on the Legal online gaming were not impressive according to Weaver.
Until a 3rd website is licensed, Nevada won't break out the figures; there are only 2 poker-only internet gaming sites licensed to Nevada.
Weaver said, "We'll put everything on hold and monitor it for now."
In the gaming revenue during the month of December, online poker was responsible for close to $200,000 according to the Union Gaming Group estimation.
In New Jersey, there are currently 15 internet gambling sites. Resorts Casino Hotel has an internet permit but doesn't offer online gambling. However, the casinos licensed to operate these sites are as follows:
· Trump Taj Mahal – partners with the Station Casinos-owned Ultimate Gaming
· Golden nugget Atlantic City
· Trump Plaza
· Borgata
· Tropicana
· Caesars Atlantic City
· Bally's Atlantic City
A survey carried out found out that 41% of respondents would, only if legalized, support recreational marijuana smoking.
This was
after a poll carried out by Fairleigh Dickinson University PublicMind found out that most of the residents in New Jersey would rather smoke pot than do online gambling.
Even after more than 150,000 online gambling accounts were opened in the state, even as it gets to its 3rd full month, the poll finds that the online gambling support has gone way down.
Thanks for your interest in our Online Casino News! For the best online casinos, read our reviews here!