The post positions have yet to be drawn and the odds for the 139th running of the Preakness Stakes Saturday still remain to be determined.
Even while awaiting these vital details, a core nucleus of top prospects to win the race has already emerged.

The one and three sixteenth mile race is scheduled to begin at 6:18pm ET with television coverage provided by NBC.
California Chrome
The first top prospect to be considered is of course California Chrome, winner of the Kentucky Derby. He will be the obvious favorite based on his triumph at Churchill Downs on May 3. Chromes "Run for the Roses" victory was the 5th straight win for the California bred colt. Louisville was the first racing destination outside of his native state and he performed almost flawlessly leading by as many as 5 lengths down the stretch and winning by 1 and 3/4.
Click here for a 100% Welcome Bonus at GTBets! One of the BEST racebooks on the web. Sportsbook! Use the promo code "ISEEWINNERS" and get an additional 5% on top of that!
Social Inclusion

One of California Chromes main obstacles in capturing the second leg of the Triple Crown may be Social Inclusion. It appears the Preakness has been squarely in this horse sights since his inaugural run and win at Gulfstream Park on February 22. That was followed by another "W" at the same location on March 12 when he won by 10 lengths setting a track record for 1 and 1/16 miles in the process. He could only manage a third place showing in the Wood Memorial. (NOTE: Social Inclusion was scratched from the Sir Bear Stakes on 5/3 due to a bruised hoof)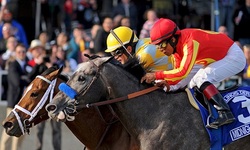 Dynamic Impact

Dynamic Impact is coming off 2 wins in a row including his victory by a nose over favored Midnight Hawk in the Illinois Derby on April 19. He's a pace stalker which is usually a good trait to have in the Preakness.
After 2 wins at Santa Anita (Jan.4 and Feb. 13) Bayern who is trained by Bob Baffert and will be ridden by female jock Rosie Napravnik finished 3rd in the Arkansas Derby on April 12. Two weeks later it appeared he had won 3 of 4 before an inquiry placed him second to Embellishing Bob for excessive bumping down the stretch. If he can outrun Social Inclusion and grab the early lead he has a chance to hold on and capture this one.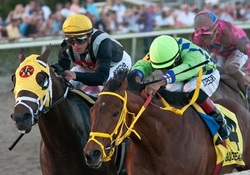 General A Rod
Another front runner, General A Rod also has a chance in this one assuming he is allowed to run his race unlike the circumstances that were presented to him in the Derby. Starting from behind out of the gate he finished 11th at Churchill Downs. This was the first time he was out of the money in his 6 career starts. He was victorious in the Gulfstream Park Derby on January 1. (By the way, he is not named after the Yankees Alex Rodriguez currently on a forced hiatus from MLB, but after his owner, J. Armando Rodriguez.)
Don't discount the chances of Kid Cruz pulling of an upset in the Preakness. He has established himself on the mid-Atlantic circuit making him somewhat of a "hometown favorite". He won his last 2 at Laurel Park and Pimlico on 3/8 and 4/19 respectively and will be making his graded stakes debut. (By the way, he IS named after New York Giants wide receiver, Victor Cruz.)
Thanks for reading! Before you bet on horse racing online, be sure to check out our online sportsbook reviews. We will not only find the best online racebook for you, but we guarantee the best betting bonuses!