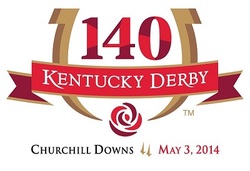 2014 Kentucky Derby Preview – Top Prospects

The bonnets are being selected and the mint julep ingredients are being readied as we approach the 2014 Kentucky Derby at Churchill Downs on Saturday, May 3.

The race has a scheduled post time of 6:24pm ET with TV coverage on NBC beginning at 4:00.

Does anyone recall the name of last year's winner? The correct answer would be "Orb".
The field has yet to be officially set with the draw for post positions to be determined on Wednesday, April 30 at 5pm ET. If you so desire, you can follow that event on the NBC Sport Network. Official odds will be posted immediately following the assigning of the gate numbers.
However the majority of the participants have already been announced with California Chrome expected to be the overwhelming favorite regardless of which post number (1-20) he draws.
The aforementioned 2013 victor "Orb" started from gate number 15.
Following you will find a preliminary preview of some of the anticipated top entries in the 140th "Run for the Roses" along with approximate opening line odds in parentheses.
California Chrome (11-4)
This 3 year old won the San Felipe Stakes by 7 and a quarter lengths over the 1 and one sixteenth mile course and the Santa Anita Derby by 5 and a quarter running 1 and an eighth.
This horse has a winner's calm demeanor and will be ridden by experienced jockey Victor Espinoza.
Wicked Strong (7-1)
His opening line odds make Wicked Strong an attractive alternative to California Chrome.
The only thing he lacks is "Chromes" consistency thus far. He finished 4th and 9th in his two prior starts before winning the Wood Memorial.
His advantage over the favorite may be the distance factor. The one and a quarter Churchill Downs oval may be just right for this thoroughbred.
Thanks for reading! Before you bet on the Kentucky Derby, be sure to check out our Online Sportsbook Reviews. We not only guarantee to provide nothing but the best horse betting sites, we'll get you the best bonuses too!