Recently, there was a new point system that was adopted by the Kentucky Derby in order to qualify the horses. As you may already know, this system has proven to be quite effective at restoring purity to the race. In doing so, it's also made it much tougher to handicap horse racing because there are no longer any toss-outs for horse bettors since the system weeds them out. If you look around the field now, you'll see that all 20 have a fair chance of winning and there's typically none that standout to win.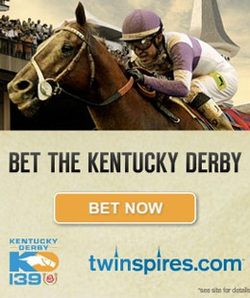 Leading up to the race, many believed Verrazano would be the favorite due to remaining perfect in the Wood Memorial, but to the surprise of many, Orb actually became the morning-line favorite. Orb is coming into the derby on four straight wins and tends to come off the pace during races. He's been very successful during training at Churchill Downs, so he could easily be the one to chop down Verrazano. This being said, Verrazano has shown some limitations over distance and gave up ground to both Normandy Invasion and Vyjack in the deep stretch. Overall, Verrazano is still expected to take a shot at winning the Derby on the lead, but there will be quite a few horses that will try to keep a steady pace with him early on.
Although Orb and Verrazano are considered the top tier of horses, the next tier down are quality contenders to say the least. Three of these tier two horses are coming into the derby with major wins in the previous qualifying races. Believe it or not, Rick Pitino, who is the coach of the Louisville Cardinals, partially owns Goldencents. This being said, Goldencents is trained by none other than Doug O'Neill. If you're unsure who he is, he actually trained the winner of last year's Derby, I'll Have Another. This is all well and good, but Goldencents isn't the only horse at this level. Both Overanalyze and Java's War are both worthy competitors and have respectively won the Blue Grass Stakes and Arkansas Derby. Based off of past strategies, Java's War will attempt to gain the lead from further back in the pack, but on the other hand, Overanalyze typically stays in the middle of the mix and will wait for his opportunity to strike.
Speaking of respectable horses, both Vyjack and Normandy Invasion finished second and third behind Verrazano in the Wood Memorial. Statistics show that Normandy Invasion has always finished strong and hasn't had a bad race yet. There are many who feel that he will be there to cleanup if the front runners are compromised for some reason during the race. Vyjack on the other hand, had gone undefeated until the Wood Memorial and has shown to have quite a late kick. Even with the third place finish, he seems to be a very worth opponent.
Taking all this into consideration, I think it's fair to say that the pace of the Derby this year will be extraordinary! Based off patterns displayed in past races, this year should benefit those who are considered the stalking types rather than those who run the lead or stick way back. With that considered, along with the added distance, there's a good chance Verrazano might not remain undefeated for long.
If you're looking for a value bet, Overanalyze might prove to be a better choice than Orb would. Even though both have proven to be able to hold a stalking position and wait for the chance to pounce when the front-runners tire-out, Overanalyze has been able to successfully make it through trouble in several of his previous races. Obviously this would make him a great choice because of all the maneuvering and bumping that occurs during the Derby. Lastly, if you're looking for additional value, keep an eye on Vyjack, because he is thought to be able to go as high as 15-1, so that leaves a very good value for those who are paying attention.
That concludes our breakdown of the 2013 Kentucky Derby, the 139th edition of the "Greatest Two Minutes in Sports." If you can't make it to Chuchill Downs this Saturday, and still want to bet the race, read our
online sportsbook reviews
to find the best sites to
bet on horses online
with.