Contrary to popular belief, the game of poker isn't just a game of luck. Poker is a game of skill, math, and luck. Because of this misconception, many people fail. When you're a new player, and perhaps only used to playing free online poker, you tend to develop bad techniques that can turn and bite you in a real game. Not only this, but you can also get overconfident when playing for free because of everyone else's terrible techniques and when you play for real money, you may find yourself up against more than you can handle. All this being said, here's four common mistakes that you need to avoid: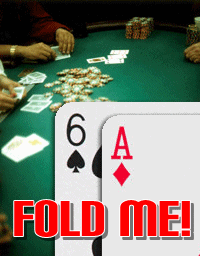 - Know When To Fold -
Poker involves a lot of thought and anticipation of what your opponents may have in their hands. You need to be aware of the odds and pay attention to what you have in your hand. Just because you have something half-way decent, doesn't necessarily mean that you have a good chance of winning. You need to always be aware of the betting habits of those around you and know when the odds are in their favor. When this is the case, don't be afraid to fold, chances are if you only need one more card to get something good, you're not going to get it, so just fold.
- Under Betting -
If you're dealt a good hand from the start, don't be afraid to push the limit a little and raise pre-flop. This being said, be careful not to overdo it. A very successful technique is called slow playing and that's pushing the bet enough to keep people interested, while at the same time staying under the radar of others so they expect you not to have anything. This being said, if you play it too slow, you're going to have too many people stay in the hand and this lowers your chances of winning. What you really should try to do is raise it enough that only a couple people call and everyone else folds out.
- Over Betting -
As you may have guessed, this is the opposite of under betting. This is a common mistake by new players where they will get too excited once they've been dealt a good hand and they'll make extreme bets that give everything away. If you always bet high when you have something good, your opponents will see this and always fold. On the other hand, if you don't bet high after a pattern of doing so, they'll all know that you don't have anything, so you're setting yourself up for destruction.
- Going All-In -
This can be a very powerful tool if it's used properly, but many new players abuse it. You need to bet carefully and even though you can bluff with an all-in, it's often referred to as "bad poker" if you do this when you have nothing in your hand. The best time to use all-in is when you feel that you have a high chance of doubling your stack. Again, if you make a habit of going all-in regularly, people will catch on and start reading you like a book so that in the end you're going to lose.
Although these aren't the only mistakes that could happen, they're some of the most common that will give you away as being a new player. Always remember that experienced players will be able to spot you from a mile away if you're not being careful and using your brain. Take time to think and break down the odds of every hand. Be careful to calculate each bet properly and do your best to read the players around you. If you do this enough times, you're going to start catching on and sooner or later you'll begin winning tournaments!
For a complete list of the internet's
best poker sites
, read our independent
online poker reviews here
.