As with most card games, there are many different versions that have been introduced. Even simple games like solitaire have had many variations invented and adopted over time. As you can imagine, a more complex game like poker, has many more variants that are played regularly. Most of the time, you'll find that Texas Hold 'em is the most common variation, but there are some others that have become quite popular, such as omaha, razz, 5 card draw, and 7 card stud. The reason many people begin participating in these spin-offs is often because they just get bored of the same old play, day in and day out. Sometimes players are just looking for a change.

If you begin digging deeper into the world of Poker, chances are you'll come across a fairly new variant called Badugi. Since Poker is often played tournament style and attracts players from all over the world, Badugi is seeking to draw the same crowd. It is presumed to have originated somewhere in Asia and is still played there to this day. But there are some claims that the game was actually invented, and played, under the name of "Off Suit Lowball" in Winnipeg, Canada during the 1980's. Recently, Badugi has started to become more popular due to many online poker rooms beginning to offer it. As more people are hearing about it, it's quickly growing by word of mouth.

Badugi is so much different than the poker games that most North Americans players are used to. The game has no resemblance to Texas Hold'em, Omaha or Stud. So if you're looking to learn how to play, you can simply forget all the matches and rank system that's in place for those games. Firstly, you need to know that it's played with four cards and the object is to collect the least amount of cards possible. Any pairs, sets, or flushes don't mean anything when playing Badugi, and the best hand is actually an Ace, two, three, and four of completely different suites. The game is considered a draw game and allows players to swap cards with those in the deck along with having to draw a card between betting rounds. The goal of getting all 4 different suites is often referred to as a "Rainbow Hand."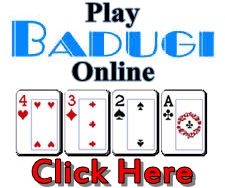 As the game begins, players bet and have the option to draw between rounds. The idea is for players to bluff their opponents and make them think that their bet is worth what's in their hand, which is often not the case and their hand is worth much less than their bet. As with anything, practice makes perfect and the excitement of this game should keep you practicing until you're a master at it!
Just like anything else in life, you're going to become better and better the more you play, so don't be afraid to get out there and fool around a little bit. Just because the game isn't as widely known as Hold 'Em, it doesn't mean you can't begin to learn now and get a jump on the crowd that's going to join in later. On top of this, everybody needs a change sometime, so you might find that you're able to experience another level of excitement because the game is new to you.
If you want to play Badugi online,
click here
for our list of the
best online poker rooms
.