With 79,471 total entries, this year's World Series of Poker was once again a record-breaking tournament. Over the course of sixty one separate events, thousands of players were eliminated down to only the final nine who remain. Those players are now preparing for the final event and their chance to capture the championship in this year's WSOP. ESPN will be broadcasting the Main Event Final Table, which is to be played on November 4th and November 5th.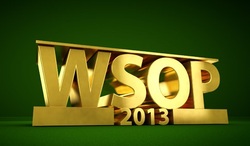 Referred to by poker fans as The November Nine, these players have a total pot of $26,662,046 to play for in prizes, including $8,359,531 which will be rewarded to the player who earns the top spot in this year's tournament. Along with the cash, the top player also earns a heavy solid gold WSOP bracelet and bragging rights among professional gamblers and friends alike. The Main Event alone featured 6,352 players with a combined prize pool total of $59,708,800. Throughout 2013, the Word Series of Poker has distributed over $197 million to players via prizes won in tournaments.
For a complete list of today's best poker sites, see our online poker reviews.
ESPN's two day coverage of the finale will air live with a slight delay and every single hand at the final table will be broadcast to millions of fans worldwide. The final nine players are scheduled to return to Las Vegas on November 4th at 5:30pm where the final event kicks off at the Rio All-Suite Hotel & Casino's Penn & Teller Theater. The theater is expected to be filled to full capacity with a live audience of raucous spectators and fans in attendance. ESPN2 will cover the early action on Monday as the nine players begin their final push towards glory and will continue until only three players remain.
Once there are just the final three players, coverage shifts to ESPN who will begin broadcasting the tournament tentatively on Tuesday, November the 5th at 6:00pm. The coverage continues until the final champion is crowned and awarded the prize.
For viewers within the United States, live coverage of the event can be enjoyed through ESPN's family of channels. For those outside America, the WSOP website at WSOP.com plans to host live stream coverage of the action at all times, with only a slight delay.
Interested parties who plan to be in Las Vegas at the time and wish to obtain tickets to the WSOP Final Event can get them for absolutely free of charge by simply showing up on the day of the event in front of the Penn & Teller Theater. All seating is handled on a first come, first serve basis and lines are expected to form early in the morning of the scheduled event. As a reminder, the friends and families of players do receive priority seating, so space is limited and visitors should secure their spots as early in the morning as possible. Typically, as players are eliminated, more seats become available for the general public.
Here is a spotlight on the remaining nine players, who come from five countries around the word (USA, Canada, France, Netherlands, and Israel).
Sylvain Loosli (France)

This 26 year old professional poker player's hometown is Toulon, France, but he currently lives in London, England. He is a business school graduate and the least experienced player remaining in the tournament. In fact, Loosli doesn't have any career WSOP cashes and just $3,198 in official recorded earnings from play worldwide. However, Loosli says that he is a talented and accomplished online poker player, with over $1,000,000 in earnings so far. Because of this, a one table format may be his strong suit. When not at the poker table, Loosli's hobbies and interests include surfing, tennis, traveling, and snowboarding. His finish in the WSOP final event will mark his first cash in a poker tournament outside of France.
Michiel Brummelhuis (Netherlands)

Brummelhuis is thirty two years old and a professional poker player from Amsterdam, Netherlands. He is currently not only having to deal with the stress of the final event, but also expects his first child to be born in September. This is the fourth time that Brummelhuis has played in the main event, but is his first appearance since 2008. Unfortunately, he did not cash in any of the previous events. He does, however, have other WSOP cashes totaling $174,170 and total career poker earnings of over $670,000. With his current standing in the final event, Brummelhuis will more than double his career earnings regardless of where he places. This is the first time that any Netherlands player has made it to the final table, securing the highest finish ever since Dutch player Marcel Luske finished 10th place back in 2004. If he wins it all, Brummelhuis will become the fourth WSOP gold bracelet winner to come from the Netherlands.
Mark Newhouse (United States)

This 28 year old has played in every WSOP main event dating back to 2006. While he was born and raised in Chapel Hill, NC, the professional poker player now lives in Los Angeles. With over $152,725 in earnings, he has cashed a total of six previous times, including earning the 207th place finish during the 2011 WSOP Main Event for which he earned $47,107. The total winnings he has won from live poker tournament play are $2,004,277.
Ryan Riess (USA)

This 23 year old is originally from East Lansing, Michigan but now calls Las Vegas his home. The recent college graduate with a degree in business has cashed in over three WSOP events for a total of $30,569 in prize money. His biggest win came at the Horseshoe Hammond in Chicago during the 2012 WSOP Main Circuit Event where he captured second place and was awarded $239,063. This is the first time ever that Riess has taken part in a WSOP main event. He is the youngest player still remaining at the table and currently has a total of $309,478 in career poker winnings from live tournaments.
Amir Lehavot (Israel)

This 38 year old professional poker player is originally from Israel but currently makes his home in Weston, Florida. Lehavot already holds one WSOP gold bracelet which he earned by winning top spot in the 2011 $10,000 Buy-in Pot-Limit Omaha Championship. Lehavot has experience at WSOP tables, cashing out twelve times at the event for a total of $800,000 in earnings. In total, he has over $1.5 million in earnings from live tournament poker play. An engineer by training, Lehavot earned his degree from the University of Texas at Austin before pursuing his career in poker. He is the oldest player remaining in a field which is uncharacteristically young this year.
Marc-Etienne McLaughlin (Canada)

This 25 year old Canadian poker player is from Brossard, Quebec. This is his fifth year at the Main Event, with his two best finishes being 30th place in 2009 and 86th place in 2011. If he captures the top spot at the event, he will only be the second French Canadian to do so after 2010 champion Johnathan Duhamel from Boucherville. When not playing poker, McLaughlin enjoys a game of ping pong or soccer. He has earned six previous cashes totaling $639,168 in earnings, but his finish in the event this year will mark his biggest cash out to date.
JC Tran (United States)

This 36 year old poker professional is the current chip leader heading into the final event. The Sacramento, California resident has over 44 cashes in WSOP events, two gold WSOP bracelets, and a WSOP circuit ring in addition to his impressive $1,843,946 in earnings. He is the most experienced player remaining in the event and begins with an eight million chip lead over his nearest competitor. During his extensive career, Tran has pocketed over $8.3 million in winnings from live poker tournaments. With his finish in this event, that total will increase to over $9.0 million. His most impressive accomplishment to date was back to back WSOP gold bracelet wins in 2008 and 2009. His largest one time cash out was during a $1500 No-Limit Holdem tournament in 2009 where he earned $631,170. Regardless of where he finishes this year, however, he will eclipse that previous record.
David Benefield (United States)

This 27 year old student plays professional poker part time while also attending college. He is originally from Fort Worth, Texas but currently resides in New York City. Benefield has a dozen cash outs from WSOP events totaling $455,713 in winnings to date. He is currently attending Columbia University where he studies political science and Chinese. Benefield has played the WSOP main event five previous times, with his best finish to date being 73rd place in 2008, which earned him $77,200. When not playing poker or hitting the books, Benefield likes playing basketball.
Jay Farber (United States)

Farber is 28 years old and is originally from Santa Barbara, California but currently makes his home in Vegas. This is his second consecutive year in the Main Event. Farber says that poker is simply a hobby for him and his earnings to date reflect that. In fact, Farber has never cashed out in a WSOP event and his lifetime earnings are only $2,155. This is the least amount of earnings ever for a November Nine player. In his spare time, Farber also enjoys sports, cars, and traveling.