Millions of poker players can't be wrong. Instead of traveling to a casino or pitting your skills against some automated software program, they're choosing to play against fellow card players from all over the world. Online poker's growing popularity stems from the convenience, excitement and challenge of playing against poke players of all different skill levels and experiences.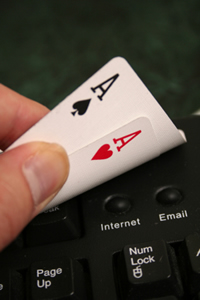 Online poker offers gamblers the same exciting action and chance at real money wins in a more convenient and comfortable atmosphere.

One: No Closing Time at the Casino

No last call, no last bets, no one kicking you out when the clock strikes a certain hour. With online poker sites, you have the option to play cards at any hour and on any day. You don't have to wait for the doors to open, no fighting traffic, paying for gas or buying overpriced food either.

Two: Play Your Way with No Limits

Many real world casinos offer a limited selection of games. They cater to the majority and what can make them the most money, but that doesn't always coincide with your interests. Online gambling sites let you play your way with more types of card games from Horse to Badugi and Omaha Hi Lo and more. With the card player's world at your fingertips, you'll find someone who loves the same game as you.

Three: Start, Play and Win Faster

The internet is always going to be faster than live dealers and other players too. Online poker sites want you to play more, and they make it easy to start 50% more hands every hour. That's a lot more chances to win when your time to play is limited.

Four: Play More Tables at Once

Unless you are a master of cloning technology or employ body doubles, there's no way to play multiple poker tables at the same time in a normal poker casino. No crowds and no trouble finding a table. If you're good enough, you can handle five, or even ten tables all by yourself.

Five: Save Money While You Win Money

A trip to the casino costs plenty of money before you even sit down at a table and pick up the cards. Travel expenses, food, drinks, entry fees, and dealer tips all cut into your winnings. Online poker casinos cut out all those expenses so you can enjoy your time and your money more.

Six: Play in Your Underwear, or However You're Comfortable

Forget rental tuxes and uncomfortable dresses and high heels when you hit the casino floor. There is no one to judge you behind the computer when you pull up your desk chair to the poker table. Not only can you get started without wasting all your time combing your hair or putting on pants, you can stay perfectly relaxed, which may help you focus on winning the game more.

Seven: Be Totally Anonymous

At the poker table, your mannerisms, look and personality tell the other players a lot about you and how you play the game. Without knowing it, you give away "tells" about the hand you're holding. Online, you can be anonymous, or create a new persona for yourself. Pretend to be a new player and fool others into taking dangerous risks.

Eight: More Tools and Toys = More Fun

Many tools and programs exist to help you track online winnings at the poker sites, remember hand histories and create your own avatars, sounds and dances when you win a big hand. All you have in physical casinos is your own look and behavior, which could be frowned upon by managament.

Nine: No Security Guards Eye-balling You

While cheating at poker isn't any easier in online casinos than in real world ones, certain tricks like counting cards and taking notes will get you in a whole heap of trouble with casino security guards. Relax and use whatever technique you want to win when you're playing online poker.