Contrary to popular belief, craps isn't the casino game with the best odds. Many people don't realize that sports betting actually has higher odds than any other casino game that's played today. Craps is a game that relies strictly on chance, there's no way to predict what's going to happen. The only way to try and get ahead in craps is to bet based off of probability. But with sports betting on the other hand, you're actually betting on a foreseeable outcome. Past performances, statistics, weather, officiating crews, injuries, even locations all have an influence on the outcome of a sporting event. Since it's impossible to predict the future, you'll never win all of your sports bets. But if you handicap sports properly, you will definitely win more than you lose. Here's ten ways to further improve your odds of winning more sports wagers.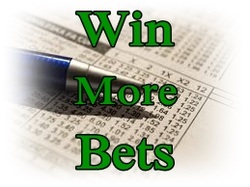 1) Do Your Research
As always, make sure that you're informed prior to arriving so that you're prepared for any type of situation that may occur. Remember, nobody has time to become an expert at everything, so find your niche and stick with it. If you do this, you'll find that you're able to make yourself a killing because you've become the expert in that niche.
2) Arbitrage Bets are Helpful
No matter what the result of the game is, with an arbitrage bet, you're still able to make money. This is because this type of bet is based off a specific happening rather than the final result of the game.
3) Don't Drink and Play
Most people are already aware of this, but alcohol can easily cloud your judgement or even give you a confidence boost that you might regret later on. It's just not a good choice to drink and play if you're looking to make a profit. If you're just looking for fun, go for it, but otherwise you should save it for later.
4) Dont Chase and Don't Bet on Tilt
Just like number three, sometimes players are known to go on "tilt" after a tough loss or too. Tough losses happen, it's just the nature of sports. You may be betting on a hockey team that is winning by 3 goals in the 3rd period, and wind up losing in the final seconds of the game. Or perhaps your under bet is covering by 14 1/2 points in a football game, when all of a sudden a team scores 15 points in the final minute to tie the game (converting a 2 point play). These things happen, and they can be tough to swallow. But this is one of the worst times to be rash, and bet the rest of your bankroll on the very next game available in an attempt to win back your losses. When players are on tilt, they are not thinking rationally.
5) Bet With The Right Sports Book
Some bookmakers have bigger spreads, and higher moneylines. Others are known to have smaller spreads, and cheaper moneyline prices. Be sure to wager accordingly. If you're looking to bet on an underdog, be sure to place it with a sportsbook that has the bigger spreads, and the higher prices to increase your odds of winning, or to improve your payouts. Statistically speaking, a bet that is placed with the right sportsbook can increase your odds of winning by up to 3%. Read our
online sportsbook reviews
for further information as to which online sportsbooks offer steep odds, and which offer lighter odds.
6) Choose The Right Time To Bet
Typically, you'll find trends of when most people bet for a specific choice. For example, many people who bet on the underdogs will do it early and those who bet on the favorite will do it later. This being said, if you reverse this and bet late on the underdog and early on the favorite, you'll find you may increase your odds.
7) Don't Go With The Flow
If you find that there are the majority of people are betting on a certain team, there are those that say "fading the public" and betting against that popular choice is a wise idea and can be very profitable.
8) Sucker Bets Or Lures
There are always square lines or sucker bets which try to lure you to bet a certain way and many people shy away from these for fear that they'll lose money, but with close monitoring, it's very possible to beat the odds and turn a nice profit.
9) Home Dogs
Throughout history, underdogs have a way of beating the odds and turning things around to end up in their favor. This is especially true if they're at their home stadium, so take advantage of that. In some sports, underdogs at their home location have covered nearly 60% of the time!
10) Know How To Manage Your Money
As with any type of gambling, it's important for you to be able to keep a cap on what you're investing. If you can't afford to lose what you're betting, you shouldn't be betting it. Don't take money that you need to pay bills or buy food and use it to gamble, it's just not a wise decision. Doing this only leads to trouble, so instead, you should set extra money aside that you want to invest in gambling and control yourself to only use that money when you go to play. This will help to keep you from getting into trouble or even getting addicted over time. That being said, once you set aside a bankroll that you are comfortable, don't bet more than that bankroll can afford. You should only wager a maximum of 5% of your bankroll on any sports wager.
Follow these ten steps closely, and you'll definitely win more of your sports bets. There's two types of sports bettors: the gambler, and the investor. Be a sports-betting investor. Always remember that you're betting on sports to make a long-term profit, not to get rich overnight.