The 2010 6th round pick Antonio Brown, the 2002 7th round pick Brett Keisel and the 2003 4th round pick Ike Taylor are the Colbert examples of finding draft depth ever since the year 2000 when he joined the Steelers.

In a pre-combine conference call, Mike Mayock said that, "From my perspective, this is the deepest and best draft class I've seen in probably 10 years.

That's been reinforced by most of the general managers and scouts we've talked to throughout the league. I had one GM tell me the other day that having a Top-20 pick this year is very similar to having a Top-10 pick last year"; this is according to Curtis Crabtree of ProFootballTalk.com.
From the above statement, it's obvious that Colbert isn't the only one who sees depth in this draft.

The draft for this year could be a better opportunity than ever before for stockpile picks, trading down of teams and coming away with an exorbitance of talented players. This is possible due to the plentifull talent at the top; from Jake Matthews and Greg Robinson to Jadeveon Clowney and Khalil Mack.

While some teams might decide to pass on early-round talent at deeper positions to take advantage of steals that slide down the board, there are positions that might have more must-have talent at the top than value sections in the late and middle rounds.

With that said, a team's ability to fully take advantage in this year's draft class depth will probably have to depend on where their positional needs are.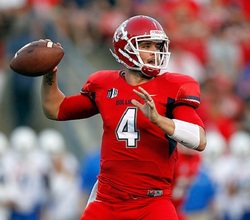 Depth Grade: D-
Quarterback

It is difficult for quarterbacks to get much love as draft prospects because of the standard that was set by Robert Griffin III, Andrew Luck and the other 2012 NFL draft class. The 2014's draft is in real fact quite deep at the position despite the annual pre-draft nit-picking that takes place between signal-callers.

Being widely projected as 1st round selections, Fresno State's Derek Carr, UCF's Blake Bortles, Texas A&M's Johnny Manziel and Louisville's Teddy Bridgewater are the top 4 passers that the depth starts at. Since 2000, there have only been 4 drafts whereby in Round 1, 4 quarterbacks were selected.

It is however not certain whether in the 2014 class, there will be quarterbacks drafted with starting expectations after the previous 4. Between Rounds 2-4, there are possibilities of Alabama's AJ McCarron, Eastern Illinois' Jimmy Garoppolo, San Jose State's David Fales and LSU's Zach Mettenberger getting picked.
Into the double digits will the number of this year's draftable quarterbacks get to. Passers who have the physical traits to be drafted notwithstanding the erratic collegiate play include Miami's Stephen Morris and Virginia Tech's Logan Thomas. Ball State's Keith Wenning, Pittsburgh's Tom Savage, Clemson's Tajh Boyd and Wyoming's Brett Smith are the potential late-round steals.

From the top, potential stars in Manziel and Bridgewater, to depth all the way through the draft, there should be plenty of options for teams looking to add a quarterback though there are no signal callers in the 2014's class whose scouts are globally sold on.
· Running Backs

There should be plenty of options between Rounds 2-7 for teams who want to improve on their ground game even if there may not be any 1st round caliber rushers. This year's class should be of no exception as productive running backs are found typically deep in the draft.

How a team quickly jumps on top of running backs could determine, in part, the depth. The talent pool could start to thin out before the middle rounds if a number of backs like Auburn's Tre Mason, Washington's Bishop Sankey and Ohio State's Carlos Hyde go off the board quickly in Round 2.

There is plenty of promising talent that could answer team's running back needs in the middle rounds of the draft from the small school standouts like Isaiah Crowell of Alabama State, Terrance West of Towson and Jerick McKinnon of Georgia Southern to the big names like Andre Williams of Boston College, Devonta Freeman of Florida State and Lache Seastruck of Baylor.

Missouri's Henry Josey, Wisconsin's James White, Arizona's State Marion Grice and Stanford's Tyler Gaffney are some of the potential difference-making running backs. There are some very solid talents available as well at the position in the late rounds of the draft.
A running back class is not defined by its stars; it's defined by a glut of running backs that have grades that are likely to be interchanged between boards across the league.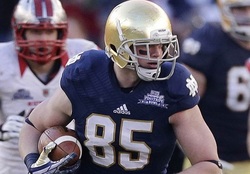 Depth Grade: A+
· Tight End

In the draft's 1st two rounds, Troy Niklas of Notre Dame, Austin Seferian-Jenkins of Washington and Jace Amaro of Texas Tech's could all be selected. The only sure-fire 1st round talent at the position is Eric Ebron of North Carolina.

Among the draft class' more promising sleeper talent are Crockett Gilmore of Colorado State, Rob Blanchflower of Massachusetts and Marcel Jensen of Frenso State.

Although the early draft picks will probably be for the top 4 underclass men, there are a few early entrants who despite having question marks, have enough talent to overcome them thus getting to be Day 3 steals. Jake Murphy of Utah, Richard Rodgers of California and Xavier Grimble of USC have the physical tools of making it to the NFL rosters despite their limited collegiate production. A.C. Leonard of Tennessee State and Colt Lyerla of Oregon are dynamic athletes with ugly off-the field rap sheets.

Teams in need at the position might be more inclined to target early talent than wait until later rounds. There is plenty of talent to be had from top to bottom as much as the end position is not quite as rich as the other offensive skill-position groups in this year's draft.

From the depths of this year's tight end draft class, there could be a few gems waiting to emerge.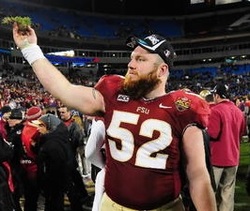 Depth Grade: B
· Centers

To be Day 2 picks in Colorado State's Weston Richburg, there are 3 solid candidates namely Marcus Martin of USC's and Travis Swanson of Arkansas. Any true center in this year's draft would be a stretch as a 1st round pick.

The centers that should be drafted are the likes of Bryan Stork of Florida State, Tyler Larsen of Utah and Gabe Ikard of Oklahoma. Players like Corey Linsley of Ohio State and Jonotthan Harrison of Florida could be pushed up the board due to the lack of depth; every other center at this year's draft projects has a late-round pick at best.

Notre Dame Guard Chris Watt and Vanderbilt offensive tackle Wesley Johnson are some of the candidates from other offensive line positions to kick inside.

Because there isn't nearly as much depth among players who project to the middle of the offensive line, some of the players listed as guards or offensive tackles could end up getting looks inside as center prospects.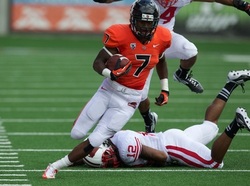 · Wide Receivers

In the top 3 rounds, early entrant wide receivers alone could easily make up a double-digit number of draft picks. Among the top potential 1st rounders who could get pushed down into Day 2 due to the depth at the position are Penn State's Allen Robinson, Florida State's Kelvin Benjamin and Fresno State's Davante Adams.

Brandin Cooks of Oregon State, Odell Beckham of LSU, Marqise Lee of USC, Sammy Watkins of Clemson and Mike Evans of Texas A&M are some of the projected 1st hand picks. To go as high as Round 2, Martavis Bryant of Clemson, Paul Richardson of Colorado, Donte Moncrief of Mississipi and Jarvis Landry of LSU among others would make it.

There is a very solid senior class of wide receivers beyond the talented pool of underclassmen. Texas' Mike Davis, Wisconsin's Jared Abbrederis, Oregon's Josh Huff, and Wyoming's Robert Herron should all be great value selections in the middle rounds. In the group, Jordan Matthews of Vanderbilt's could be the only 1st or 2nd round pick.

For the teams in this year's NFL draft, finding quality talent at the wide receiver position should present no problem at all.

As much as the entire 2014 draft class depth stands out, the incoming class of rookie wide receivers make it stand out even more especially because of the whopping 19 early draft entrants at the position.
Other receivers should slide down the board as a result of the overload of talent at the top thereby leaving value available at the position throughout the draft.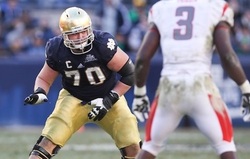 Depth Grade: D+
· Offensive Tackles

There are plenty of options available from the first round to much later in the draft for teams in need of an anchor for their offensive line.

3 offensive tackles were chosen in the 1st 4 picks and 5 offensive tackles in the 1st 19 picks in the 2013 draft. More depth and talent at the position will most probably be in this year's draft.

There are 3 potential top 10 picks in the 2014's crop of offensive tackles in Michigan's Taylor Lewan, Texas A&M's Jake Matthews and Auburn's Greg Robinson. This is similar to the 2013's trio of Lane Johnson, Luke Joeckel and Eric Fisher.

Zack Martin of Notre Dame could be limited somewhat by his physical tools although he does have an NFL left tackle polish. To succeed as NFL starting tackles, Tennessee's Antonio Richardson, Virginia's Morgan Moses and Alabama's Cyrus Kouandjio need to become sound technicians and fluid movers; they however have developmental potential that could make them 2nd round picks.

Potential steals that include the likes of Nevada's Joel Bitonio, North Dakota State's Billy Turner and Ohio State's Jack Mewhort might be best suited to kick inside to guard as talent begins to steep into the middle rounds.

Boston College's Matt Patchan, North Carolina's James Hurst, Stanford's Cameron Fleming, Miami's Seantrel Henderson and Tennessee's Ja'Wuan James are players who could end up developing into starting offensive tackles in the right systems.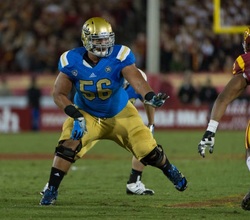 Depth Grade: B-
· Offensive Guards

Another spot where teams should be able to find appropriate value from the 1st round to the last is the intermediary position on the offensive line even though the draft's guard depth depends on, to an extent, which offensive tackles get drafted to kick inside.

Although Zack Martin could be drafted in Round 1 to kick inside to ground, Xavier Su'a-Filo of UCLA is most likely to be picked in the 1st round.

The players who could be viewed as starting guard answers in the draft's 2nd or 3rd round are Clemson's Brandon Thomas, Alabama's Cyrus Kouandjio, LSU's Trai Turner, Mississippi State's Gabe Jackson and Stanford's David Yankey.
On Day 2 should the value at the position really take effect. However, there should be plenty of value to go round on Day 3 even if all players are off the board by the fourth round.

The players who have the potential of being mid-to-late round steals and developing into starting-caliber NFL guards are Furman's Dakota Dozier, Notre Dame's Chris Watt, Florida's Jon Halapio, Alabama's Anthony Steen and Baylor's Cyril Richardson.

The fact that the 2014's guard pool shouldn't be at all difficult for teams with a need at the position to strategically land a capable player through a draft selection doesn't mean that it has any talent at the top that Chance Warmack and Jonathan Cooper brought in the 2013 draft.