We've been researching the College Football players eligible for the 2014 draft. Earlier we published an article on the offensive depth available this year in the NFL draft. This time around we're going to give you our opinion on the defensive depth available, and an overall grade of each defensive position. This is a pretty deep depth, but from what we can see it does not contain too many star players. However, there are players in certain positions that can definitely be an upgrade to the current players on several NFL teams.

Here's our position by position breakdown on the defensive depth in the 2014 NFL Draft.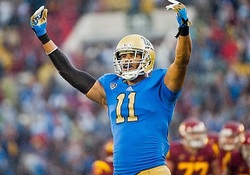 Depth Grade: B
· Outside Linebackers/Defensive Ends

What's available to defend the trenches ends is what's being evaluated whether a team plays a 4-3 or a 3-4.

Weakness in the depth of the 2014's class is exposed by the pass-rushing edge defenders who tend to, in recent drafts, come off the board often and early between 3-4 teams searching for outside linebackers and 4-3 teams searching for defensive ends.

Hybrid rush linebackers UCLA's Anthony Barr and Buffalo's Khalil Mack together with the multi-front defensive ends Missouri's Kony Ealy and South Carolina's Jadeveon are considered as some of the draft's star talents. Together with Auburn's Dee Ford and Oregon State's Scott Crichton, the aforementioned 4 players make a strong edge defenders group in the class of 2014.

Day 2 should have solid depth on the board. Solid 2nd day picks should go to Georgia Tech's Jeremiah Attaochu, Boise State's Demarcus Lawrence, Louisville's Marcus Smith, Stanford's Trent Murphy and North Carolina's Kareem Martin. For the 3rd-4th round selections, Arkansas' Chris Smith and Texas' Jackson Jeffcoat should be in.

Day 3's depth could be a little bit thin at the position if a premium on pass-rushers happens to push all players up the board. With Missouri's Michael Sam and South Florida's Aaron Lynch to the awesome small-schoolers Bloomsburg's Larry Webster and West Texas A&M's Ethan Westbrooks, there's a probability that in the later rounds, gold will be striked.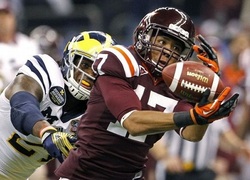 Depth Grade: A
· Linebackers

Ohio State's Ryan Shazier, BYU's Kyle Van Noy and Alabama's C.J Mosley are the 3 linebackers who play multiple spots and should thus be picked in the 1st round. To be projected to 4-3 outside linebacker spots plus edge defender roles are Anthony Barr and Khalil Mack who together with the other 3 players are 1st round picks.
To attract teams near the top 2014's draft, the versatile linebacker options are plenty. However, to find that hidden gem, it might be a tough position.

Connecticut's Yawin Smallwood, Stanford's Shayne Skov, Florida State's Telvin Smith and Wisconsin's Chris Borland are skilled players who, despite having several physical limitations, are solid Day 2 options.
Available in the 4th or later round, Florida State's Christian Jones, Iowa's Christian Kirksey, Montana's Jordan Tripp and LSU'S Lamin Barrow are some of those with notable talent.

The pool of linebackers available in the draft's late rounds will be weakened, quite significantly, by the limited solid mid-round options.

Depth Grade: B+
· Defensive Tackles

What's being evaluated here is whether the defensive tackle is a regular one whereby there are 2 just like the 4-3 system or if it's a nose tackle with the defensive system being a 3-4.

Among the interior defensive linemen, Aaron Donald of Pittsburgh may be the only solid 1st pick. However, Florida State's Dominique Easley and Timmy Jernigan, Notre Dame's Stephon Tuitt and Louis Nix III and Minnesota's Ra'Shede Hageman are players in the mix too.

Star Lotulelei and Sheldon Richardson are the elite skilled players who were at the top of the 2013's draft; the 2014's defensive interior line class has no such elite players but it has depth, just as well.

Some teams could however be convinced to wait on a defensive tackle until the middle rounds due to the lack of star talents. Between the 3rd and 4th rounds, the players thought to be of great value are LSU's Anthony Johnson and Ego Ferguson, Arizona State's Will Sutton, Louisiana Tech's Justin Ellis, Princeton's Caraun Reid and Penn State's DaQuan Jones.

Players who could end up being of great value in the later rounds include Syracuse's Jay Bromley, Texas Tech's Kerry Hyder, Carlifornia's Deandre Coleman and Arkansas State's Ryan Carrethers. The reason why these players may end up as valuable ones in the late-rounds is because the increasing interior defensive line talent at the middle rounds pushes them down the boards.

Depth Grade: C+
· Cornerbacks

In the middle rounds of the 2014's selection meeting, there are cornerbacks who will end up being over drafted. This could happen because the cornerback value has a tendency of getting snapped fast off the board as the position, in this year's draft, is in no need of reinforcements in the teams.

A hybrid cornerback/safety, Florida State's Lamarcus Joyner is probably the strong early-round selection as a cornerback slot. On the other hand, Kyle Fuller of Virginia Tech has a strong combine showing thus solidifying himself as a 2nd round pick.
The draft class of 2014 has a solid 1st rounders group at the top; Michigan State's Darqueze Dennard, TCU'S Jason Verrett, Ohio State's Bradley Roby and Oklahoma State's Justin Gilbert.

Waiting until Day 3 is the best deal for teams that would want more cornerbacks before the 1st round. Duke's Ross Cockerel, Rice's Phillip Gaines, Clemson's Bashaud Breeland and Lindenwood's Pierre Desir could end up being selected earlier than expected as there's small Day 2 talent at the position outside of the top group. In the 4th and 5th rounds, there's still some solid talent available even if some players will end up being over drafted due to the steep drop-off outside the 5 top cornerbacks.

The players who may end up as valuable mid-round are San Jose State's Bene Benwikere, Liberty's Walt Aikens, Utah State's Nevin Lawson and Oregon State's Rashaad Reynolds. This however depends on whether they are not pushed up the board by the cornerback depth's limited draft.

Depth Grade: C-
· Safeties
As much as the 2014's safety class is strong than the many recent drafts at the said position, the many teams' demands could make it look weak as a result of poor play.
This year's safety class 1st round picks, Lamarcus Joyner, Northern Illinois' Jimmie Ward, Louisville's Calvin Pryor and Alabama's Ha Ha Clinton-Dix, will be paced with the 2013's group who, in the top 33 picks, had 4 safeties selected.
Depth lack through the rest of the draft could be exposed if these safeties get off the board as the 2013's safeties did.
The talent pool that's still available in the later rounds of the draft could be weakened significantly if players like USC's Dion Bailey and Baylor's Ahmad Dixon get pushed up in Day 2's draft. The solid 2nd day selections should go to Washington State's Deone Bucannon and Florida State's Terrence Brroks.
In 2011, no safety was picked before the 45th overall pick; just 5 safeties made it in the 1st 4 rounds.
In 2012, in the 1st 3 rounds, 5 safeties were picked due to a dearth of talent at the position. The players were the likes of Brandon Hardin and Tavon Wilson.
The 2013's class might not, in any way, be a fair means of comparison for the strength of the 2014's safety class.
Thanks for reading. Before you bet on football this year, be sure to read our Online Sportsbook Reviews, under the "Sportsbooks" tab. We have gained so much respect from the top-rated online sportsbooks in one year, that they are giving us the best online sportsbook bonuses to pass on to our readers! Why? Simply because they want to be endorsed by Betting411.com.