We have a few things to say about how round two of the NHL Playoffs is looking like. Who has the best odds of surviving such grooling battles to move on the the NHL Finals.

Read on to see where we're at so far.
EASTERN CONFERENCEMontreal Canadiens vs. Boston Bruins (Series tied 2-2)
It is now the best of three.
The "Habs" pulled off a Game 1 upset by defeating the Bruins 4-3 and quickly snatching home ice advantage away from Beantown. It was not an easy task as the contest went to double overtime.
Montreal got off to a good start, scoring goals in each of the first 2 periods to stake a 2-0 advantage entering what they thought would be the final period. Boston had other ideas that culminated with 3 goals in the third period forcing the OT.
P.K. Subban scored the game winner for the Canadiens at the 4:17 mark of the 2nd OT.
Once again down 2 goals, Boston stormed back in Game 2 tallying the last 4 scores for a 5-3 victory.
Montreal held home ice advantage with a 4-2 triumph in Game 3 with Subban having his 3rd straight 2 point game in the process.
NOTE: You're losing a lot of money if you're not already betting at SportsBettingOnline. Instead of a massive up front bonus, with rollover requirements that nobody ever meets, they give 10% of what you bet weekly bacyour bankroll every Monday! WIN or LOSE, and NO rollover requirements!!! CLICK HERE TO GET THIS SPECIAL BONUS!

On Thursday night the Bruins found an unlikely hero in left winger, Matt Fraser who scored the lone goal in Boston's 1-0 Game 4 OT win in his first ever NHL postseason competition.
The series now heads back to Boston with 2 of the 3 possible remaining games occurring there.
New York Rangers vs. Pittsburgh Penguins (Pittsburgh leads 3-1)

This series started off well enough for the "Blue Shirts" as the Rangers beat the Penguins 3-2 in Game 1 played in Pittsburgh. Derick Brassard scored in overtime for the victory.
Things went downhill fast however as the Pens posted 2 shutouts in Games 2 and 3 (3-0, 2-0).
After a 4-2 win in Madison Square Garden on Wednesday the Penguins head home with a chance to finish things off in the Steel City Friday night.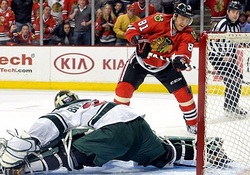 WESTERN CONFERENCE

Minnesota Wild vs. Chicago Blackhawks (Chicago leads 2-1)

Minnesota surprised the NHL with a first round victory over the Colorado Avalanche.
They quickly found out that a second round win may be more difficult against the defending Stanley Cup Champion Blackhawks.

Chicago took the first 2 games winning them 5-2 and 4-1 respectively.

In fairness to the Wild the games were closer than the final scores indicate but they nevertheless found themselves down 2-0 heading north for games 3 and 4.

Chicago did what it usually does by dropping the first road game of a series in St. Paul 4-0 on Wednesday night. They have now lost 9 straight away from the Windy City in such scenarios.

Los Angeles Kings vs. Anaheim Ducks (L.A. leads 2-1)
In this SoCal playoff series the Kings started things off looking like the 2012 Stanley Cup Champ team that dominated road play en route to hoisting the Cup.
Marian Gaborik scored the tying goal and then another in OT for the Kings 3-2 win in Game 1.
Jonathan Quick's 36 saves put L.A. up 2-0 in the series with a 3-1 victory in Game 2.
Back in Hollywood, NHL senior citizen Teemu Selanne (age 43) scored a power play goal for the Ducks to spark their first triumph of this series, a 3-2 win in the Staples Center Thursday night.
Game 4 will take place in Tinsel Town on Saturday night at 9:30pm ET.
Thanks for reading! Before you bet on hockey online, be sure to read our online sportsbook reviews. We will help you find the best online sportsbook for you, and we always guarantee the best betting bonuses at all of the top-rated sites!