An overview of our analysis for the top 10 picks in the NFL Draft.

Most of the top name NFL free agents have either resigned with their own teams or found a new home by now.

With that in mind let's take a look at how some of these moves may affect the upcoming draft.

The selection process will commence with the first round in Radio City Music Hall in New York on Thursday, May 8 beginning at 8pm eastern time. This will be followed by the 2nd and 3rd rounds on May 9 at 7:00 ET and 4 through 7 at noon on May 10.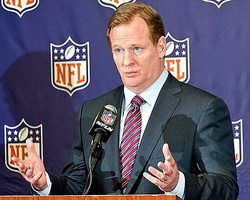 All the activities can be seen on
ESPN
(with draft "guru", Mel Kiper in all of his annual glory) and simultaneously on the NFL Network. Because of a scheduling conflict with the venue this will be the first time since 1984 the event has taken place in May instead of April.
Even before Commissioner Roger Goodell has a chance to announce the number 1 pick speculation has arisen that the Houston Texans might be very interested in trading down for multiple selections later. It has also come to light that the Buffalo Bills sitting at number 9 might be a willing partner. Can you imagine Jadeveon Clowney joining Mario Williams on the Bills defensive line or keeping Khalil Mack in upstate New York as a pro?
At this point we will assume the Texans remain at the top spot and proceed from there.
Here's a quick tip before you bet on NFL Football next year. Use SportsBettingOnline as one of your online bookmakers. Why? Because they provide their players with 10% back every Monday, no matter if they WIN or LOSE! That's their bonus, but you can't just get it all the time by signing up on their site. To make sure you get the 10% Cash-Back bonus, click here: http://tinyurl.com/sbo10. Over time this trumps anything other online sportsbooks offer in the way of bonuses. Here it the best part......ready? They don't even have rollover requirements on the bonuses! That's right, there's plenty of sportsbooks on the web that 50% up front, etc., but they attach rollover stipulations that no player ever beets. Or very few anyway. SportsBettingOnline's players don't even have to worry about that. They just keep getting 10% bonuses every week.Click here to take full advantage of this special offer from Betting411 now. You can deposit whenever you're ready, And yes, this is good for betting on all sports: footballl, hockey, soccer, lacrosse, horse-racing, baseball, basketball - you name it!
2014 NFL Mock Draft – Picks 11-20
1. HOUSTON TEXANS - Khalil Mack - OLB, Buffalo

The consensus pick here seems to be Clowney, but he's not a good fit in a 3-4 D-line scheme. That's why Williams was allowed to move on to the Bills and why Mack should be the pick here.

2. ST. LOUIS RAMS – Jadeveon Clowney – DE, South Carolina

The Rams need help on the O-line and Greg Robinson is awfully good, but Jeff Fisher is a defensive minded coach and I can't see him passing on a talented "freak" like Clowney should Houston go with Mack.

3. JACKSONVILLE JAGUARS – Sammy Watkins – WR, Clemson

If Mack is off the board I think the Jags take the best offensive talent in the draft. Watkins not only is a great receiver, but he is the most complete offensive player available as well.

4. CLEVELAND BROWNS – Teddy Bridgewater – QB, Louisville

After releasing Brandon Weed and Jason Campbell the Browns don't have a QB… enough said?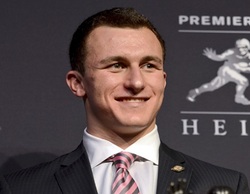 5. OAKLAND RAIDERS – Johnny Manziel - QB, Texas A & M

Only the Raiders would have the "cojones" to pick "Johnny Football" this high in the draft. They need a QB and why settle on a boring Blake Bortles when Manziel already has a pen in hand after signing all those autographs.

6. ATLANTA FALCONS – Greg Robinson – OT, Auburn

The Falcons have a need for multiple offensive linemen and Robinson is by far the best option.

7. TAMPA BAY BUCANEERS – Justin Gilbert – CB, Texas

New coach Lovie Smith loves his defense and is a Texas native. Why wouldn't he want the best secondary player available who played his college ball in the Lone Star State?

As a team with many needs they could also trade down to a team looking to beat the Vikings to Blake Bortles.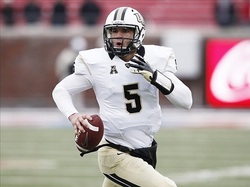 8. MINNESOTA VIKINGS – Blake Bortles – QB, Central Florida

With my projections that Bridgewater and Manziel are off the board, Bortles is the best of the rest of the QB's which the Vikings desperately need.

9. BUFFALO BILLS – Mike Evans- WR, Texas A &M

If the Bills are sticking with EJ Manuel at QB they need to supply him with a quality receiver like the 6'5", 231 lb. Evans.

10. DETROIT LIONS – Calvin Pryor – S, Louisville

The Lions secondary has been lacking for years. Pryor is a hard hitting difference maker.

2014 NFL Mock Draft – Picks 11-21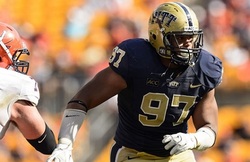 11. TENNESSEE TITANS – Aaron Donald - DT, Pittsburgh

If the Titans go to a 3-4 defensive alignment in 2014 as is expected, it will be critical to have an interior lineman that can rush the passer. Donald is the best available at this in the draft and is NFL ready now.

12. NEW YORK GIANTS – Taylor Lewan - OT, Michigan

If the Giants are going to return to being a viable Super Bowl contender they must protect Peyton's "lil bro" Eli and Lewan would be a step in the right direction. The Wolverines are known for their dominant line play and he was a major factor in last year's Big 10 season.

13. ST. LOUIS RAMS – Jake Matthews – OT, Texas A & M

Some prognosticators have Matthews ahead of Lewan on their draft charts so a flip-flop of these names is a possibility. Jake comes with a pedigree from his father Bruce Matthews who was part of the Titans organization when Rams coach Jeff Fisher led them. The father also played on the offensive line for 19 NFL seasons, 14 of them as a Pro Bowler.

14. CHICAGO BEARS – Timmy Jernigan – DT, Florida State

With the recent acquisitions of defensive ends Lamar Houston and Jared Allen I see the "Monsters of the Midway" shoring up a weak interior line that could not stop the run in 2013.

15. PITTSBURGH STEELERS – Ha Ha Clinton-Dix – S, Alabama

Dix is the last of the quality players at his position and a must grab for the Steelers secondary.

16. DALLAS COWBOYS – Anthony Barr – OLB, UCLA

The Cowboys like linebackers with speed and for a guy over 250 lbs., he can fly.

17. BALTIMORE RAVENS – Eric Ebron – TE, North Carolina

Definitely the best tight end available in the draft and a nice complement to Dennis Pitta in a 2 TE set.

18. NEW YORK JETS – C.J. Mosley – ILB, Alabama

Once again, the drop off is steep at this position and most impact players are off the board. So the Jets need to grab the best available player left on the board which is easily Mosley.
19. MIAMI DOLPHINS – Moses Morgan – OT, Virginia

QB Ryan Tannehill suffered the most sacks of any NFL passer. Morgan should help to alleviate that situation.

20. ARIZONA CARDINALS – Derek Carr – QB, Fresno State

The "best of the rest" at QB is Derek Carr. He has a chance to play in the league longer than his brother David, once Carson Palmer runs out of gas.

21. GREEN BAY PACKERS – Darqueze Dennard – CB, Michigan State

This is another "best available" pick even though not one of great need for the "Pack".

2014 NFL Mock Draft – Picks 22-32
22. PHILADELPHIA EAGLES – Marqise Lee – WR, USC

While at Oregon, Eagles coach Chip Kelly saw Lee up close and personal so he knows his outstanding capabilities.

23. KANSAS CITY CHIEFS – Jace Amaro – TE, Texas Tech

Amaro is a good fit for a QB like Alex Smith who likes to throw short and efficient routes.

24. CINCINNATI BENGALS – Dee Ford – DE, Auburn

Even without prototypical height for a defensive end, Ford has shown he can be a disruptive force.

25. SAN DIEGO CHARGERS – Jason Verrett – CB, Texas Christian

Verrett will only fall this far due to size concerns. The Chargers will take their chances at 25.

26. CLEVELAND BROWNS – – WR, Oregon State

A Cooks/ Josh Gordon duo would be an inviting sight for a new QB (Bridgewater at no.4?).

27. NEW ORLEANS SAINTS – Ra'Shede Hageman – DT, Minnesota

The Saints are in dire need for a pass rusher and Hageman fits the bill.

28. CAROLINA PANTHERS – Allen Robinson – WR, Penn State

Cam Newton needs more aerial targets and less of his own ground game if he is to survive a season injury free.

29. NEW ENGLAND PATRIOTS – Louis Nix III - NT, Notre Dame

Belichick will be all over this Golden Domer to shore up the middle of the D-Line.

30. SAN FRANCISCO 49'ERS – Bradley Roby - CB, Ohio State

With their secondary depleted entering next season Roby is a great pickup from a program known for developing quality coverage guys.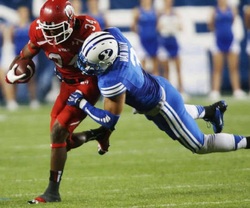 31. DENVER BRONCOS – Kyle Van Noy - OLB Brigham Young
A bit of a stretch even at 31, but Denver is weak at LB and Van Noy can rush QB's too.
32. SEATTLE SEAHAWKS – Odell Beckham Jr., WR, Louisiana State
And with the final selection of the 2014 NFL Draft's first round the Seattle selects Beckham Jr. Seattle is in need of receivers after losing both Sidney Rice and Golden Tate.
Thanks for reading! As always, if you're looking to bet online, reading our Online Sportsbook Reviews is a MUST! There are too many so-called "Sportsbook Reviewers" out there that are really just getting paid by the sportsbooks to tell you who the best online bookmaker is. So don't get burned, stick with the most reliable, reputable, proven, and trustworthy sports betting websites on the web.
If you simply want to know where the best sportsbook bonuses are, we have a page for that too. We guarantee the best betting bonuses at all of the top-rated online bookmakers.