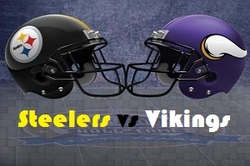 Following today's ceremonial
NFL Hall Of Fame
induction, the 2015 NFL Preseason will kick off tomorrow. This year, the traditional "Hall Of Fame" game will include the Pittsburgh Steelers and the Minnesota Vikings. While football fans are famished for any type of NFL action by this time of year, particular bettors are usually eager to begin earning profits again.
Here we'll break down the matchup between the Steelers and the Vikings, which players to keep an eye on, and some public betting information, data and sentiment.

Many believe that the Minnesota Vikings had one of the most successful drafts of 2015, lead by their first round selection of Michigan State's Trae Waynes. Wayne's has already been displaying his physical style in training camp, and earning some praise from teammates and media alike.
Also in 2015 the Vikings have welcomed back their star running back, Adrian Peterson. Peterson has made some bold statements as to how he expects to perform this year, including a goal of 2,500 rushing yards. But don't expect to see much of Peterson in the first game of the NFL preseason.
The Steelers hope to reclaim their name as a defensive juggernaut. They've lost some key defensive players entering the 2015 season, but they've bolstered their linebackers corp with the addition of Kentucky's Bud Dupree in the draft. Dupree joins James Harrison, Jarvis Jones and Lawrence Timmons as key pieces most likely to raise the steel curtain once again, and be a dominating force against opposing offenses.
Remember when handicapping NFL Preseason games, it's more about predicting who's going to see playing time rather than how each teams' starters matchup against each other. Teams are more interested in evaluating new talent, and not incurring any key injuries, than they are in winning a preseason football game.
Most experts don't expect to see much, if any, of Pittsburgh's offensive stars, Ben Roethlisberger, Antonio Brown and Le'Veon Bell. The general consensus is, however, that Teddy Bridgewater will see some playing time for the Vikings. Minnesota also has the younger team, and a wider array of players fighting for a roster position.
Public Betting Consensus and Betting Odds Information:
The opening line had the Steelers favored by 1 point
The current betting line is Minnesota Vikings -3.5
So far 59% of the betting public has bet on the Steelers ATS (Against The Spread)
So far 51% of the betting public has bet on the Steeler SU (Moneyline)
The opening line had the total set at 34.5 for this game
The current total is 34.5 points
So far 61% of the betting public has bet on the Over (Over/Under)

Prediction:
There's little talk, if any, among most professional sports handicappers about the motivational fact that Jerome Bettis, AKA The Bus, will be getting
inducted to the Hall Of Fame
prior to this game. Combine that with the fact that it's not too far of a trip for the Steelers' faithful to travel, and I expect that there'll be a decent amount of "black and yellow" in the crowd. Most sports handicappers have been picking the Vikings to cover by 3 points or greater so far. But seeing that the line is now 3.5, I like Pittsburgh to keep it close enough to cover. Neither team will be scoring a great amount of points in this one. Early on, defenses always have the advantage over offenses. The Steelers' newbies might even be interested in winning one for "The Bus," a legend in Steelers Nation.
Thanks for reading! For more information on where to bet on football online, see our Sportsbooks Page.