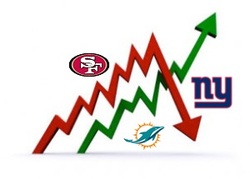 With the NFL's training camps just around the corner, this is how we envision things shaping up from the vantage point of mid-July. We give our perspective on 5 football teams that have put some key pieces to succeed this season, and discuss 5 football teams that will most likely end up with a worse record in 2015.

Keep in mind that we take into consideration roster changes, coaching changes, sheduling and divisional factors when selecting the top 5 most likely improved NFL Teams of 2015, and the 5 football teams that we envision most likely to fail to meet expectations.
5 NFL Football Teams Most Likely To Improve In 2015
Atlanta Falcons
In the NFL's most dysfunctional division, the NFC South, coach Mike Smith somehow managed to keep the Falcons pretty much in contention until week 17 of the 2014 season, but an overall record of 10-22 over the past two years meant that a change was needed to get this team back on top.
Dan Quinn
, the former Seattle defensive coordinator was hired, and with him, a new winning culture and mentality is also expected to arrive. Quinn's task is extremely difficult, as he'll have to find ways to protect a quarterback that was sacked 75 times in the past two seasons and improve a defense that allowed a league-worst 398.3 yards per game. Atlanta's schedule is not the toughest and this team seems to have made enough improvements to distance themselves from the rest in the NFC South and take a shot at winning the division.
Minnesota Vikings
With another solid draft and a powerful wide receiver in Mike Wallace arriving via trade from the Miami Dolphins, the Minnesota Vikings have something very good building in
Mike Zimmer
's second year as head coach. Zimmer has loads of talent to make the Vikings' defense into a beast, and with quarterback Terry Bridgewater entering his sophomore year and star running back Adrian Peterson returning to help his team, things look very promising for Minnesota. The Vikings have a difficult opening stretch, as they won't be playing a team with a 2014 losing record until Week 8, but given all their quality, Minnesota is primed to fight through adversity and secure a place in the playoffs.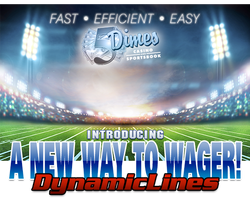 Arizona Cardinals
For the first time in the last 39 years, the Arizona Cardinals had an 11-win regular season record, but the feeling of a successful year rapidly disappeared after being one-and-done in the playoffs at the hands of the Carolina Panthers. With a healthy Carlson Palmer at the quarterback position in 2015, coach
Bruce Arians
has all the reasons to dream big. For all that he represented to this team last season, defensive coordinator Todd Bowles will be hard to replace, but the Cardinals still have plenty of talent (and even added some more experienced players in free agency like linebackers LaMarr Woodley and Sean Weatherspoon, and guard Mike Iupati) to win a lot of games and make a name for themselves in the NFC West this season.
New York Giants
After a terrible three-year drought without making the playoffs, the 2015 season might represent the end of an era in New York, in what builds up as coach
Tom Coughlin
's playoffs-or-walk-way season with the Giants. A healthy Victor Cruz and a second season with talented wide receiver Odell Beckham Jr., should give Eli Manning, who is now completely familiarized with the new system, the opportunity to cause some damage in the passing game. Steve Spagnuolo gets back to the defensive coordinator position and will have at his disposal one of the best pass-rushing groups in the division. The Giants have a pretty manageable schedule, with only four games against sides that made the playoffs in 2014, and with three of their first four games being played at MetLife Stadium, they should start quickly and then steadily pave their way to the 2015 postseason.
San Diego Chargers
Facing a lot of tough questions in their near future – how much longer will this team be in the city of San Diego or what's
Philip Rivers
' future beyond 2015, for example - and with their window rapidly closing down, the San Diego Chargers head into the 2015 season with a lot to prove. On offense, Rivers continues to have weapons galore at his disposal and this could definitely be the year they take things to the next level, and on defense, no one questions that the potential and quality are there, but this group just hasn't done enough to take the pressure off the offense and quarterback's shoulders. Special teams didn't score any touchdowns last season, but the Chargers added return specialist Jacoby Jones to change that. San Diego will face four of last season's playoff teams as part of their road schedule but with the myriad of talented options this team possesses, it should allow them to grab a spot in the 2015 playoffs.
5 NFL Football Teams Most Likely To Fail In 2015
San Francisco 49ers
After the tumultuous events of the 2014 season and the 2015 preseason, culminating in the team losing not only the head coach but some of its most fundamental players, the San Francisco 49ers could definitely use some time to get themselves together and re-focus their attentions and energies on the future. They certainly won't have the time they needed to do that, and the fact that they have the third-hardest strength of schedule in 2015 won't help the 49ers and coach
Jim Tomsula
's cause. With a huge load of important departures to overcome and a new coaching staff, it is always possible that things could change for the better, but we expect them to change for the worse. The NFC West's bottom spot seems to be reserved for San Francisco.
Dallas Cowboys
An impressive 12-4 record in 2014 has imbued the Dallas Cowboys with such confidence and poise that they allowed running back DeMarco Murray to leave, and for non-other than a team that will compete with them for the division title. And even with one of the league's best offensive units, if not the best, this is a decision the Cowboys will certainly regret. Playing only two teams with a winning record in 2014, Dallas' schedule for the 2015 season looks encouraging, but their defense, along with the running game, seem to have taken a step back, which again places all the pressure on
Tony Romo
's shoulders, and we all know how the quarterback performs when he has to do it all.
Carolina Panthers
Despite being the NFC South champion for the second straight season, the Carolina Panthers still look like a "riddle wrapped in a mystery inside an enigma". The Panthers bet on continuity, returning 9 of 11 offensive starters that helped them win five of their last six games in the league last season and 10 of 11 starters from a defensive group that ended 10th in 2014. But the Panthers, who had the worst special teams record in the NFL - outgained by 10.6 yards on kickoffs and 7.5 yards on punts – not only did a very questionable job in free agency but also had somewhat perplexing picks in the draft. Despite being a multi-million dollar quarterback,
Cam Newton
still lacks consistency, and it's hard to see Carolina as a true playoff contender in 2015.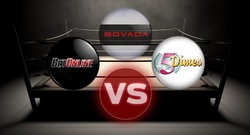 Pittsburgh Steelers
Allowing defensive coordinator
Dick LeBeau to leave the team
sure wasn't the best of decisions and time will certainly prove it, especially considering the fact that Troy Polamalu has retired and all sorts of questions are flowing around at the linebacker position and in the secondary. The Steelers' defense allowed 253.1 passing yards per game in 2014, 27th in the league, and it is yet to be seen if this problem was properly addressed in the offseason. And Pittsburgh's schedule is definitely not the easiest. Not only do they have to face the Bengals and the Ravens twice, but they will also take the Patriots, the Chiefs and the Seahawks, all on the road, and the Broncos and Colts, at home. And to make matters worse, all-Pro running back Le'Veon Bell, who was a big part of their game last season, will miss the first three games for violating the league's conduct policy.
Miami Dolphins
At first sight, the addition of
Ndamukong Suh
to an already powerful defensive group seems to be the key piece that was missing to propel the Dolphins to another dimension. Since signing what was arguably the biggest free agent available in 2015, they have been receiving a ton of media attention to go with it. The Miami Dolphins are even being picked by Bleacher Report this year as the team with the
best shot at dethroning the New England Patriots
in the AFC East. However, we've taken a closer look at this team's depth and their demanding 2015 schedule, and that vision somewhat fades away. On offense, Mike Wallace left and Kenny Stills, another vertical threat, arrived, but Ryan Tannehill isn't as effective as one would expect throwing the deep ball. And it comes as a huge surprise, although it definitely explains a lot of things, when you realize that playing in Miami isn't a real advantage for the Dolphins: since 2007 this team has a miserable record of 28-37 as hosts (and they're actually almost the same as visitors, with a 27-35 record). And considering Miami's schedule for the 2015 season, with seven of their first nine games on the road (including a trip to
London
, where they are the designated home team), it's really hard for us to see them meeting their
fans' high expectations
this year.