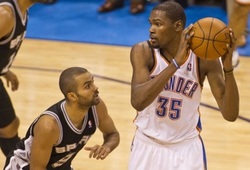 The San Antonio Spurs travel from the Lone Star State to America's heartland to face the Oklahoma City Thunder tonight in what is sure to be their toughest test to date in extending their incredible 19 game win streak.
The tipoff in Chesapeake Energy Arena is scheduled for 8pm ET immediately following Ernie, Kenny, Shaq and Sir Charles introduction on
TNT
.
The Spurs have lost their last 4 contests with the Thunder and have not won in Oklahoma City in the past 6 attempts including postseason play.
It is all but a foregone conclusion that San Antonio will have the Western Conference number one seed in the playoffs, but a win here would cement that putting them up 5 games with 6 to play.

Last night San Antonio was an easy winner against Golden State at the AT&T Center beating them by the score of 111-90. The comfortable victory allowed coach Greg Popovich to rest his regulars as the Spurs led by as many as 26 points along the way.

The Thunder will also be well rested as they have not played since Sunday night when they cruised to a 116-96 home triumph versus Utah. They have now won 6 of their last 7.

Kevin Durant had 31 points and 9 assists against the Jazz and leads the NBA in scoring with 32.2 per game. The last time these two teams met Durant netted 36 in a 111-105 win in the Alamo City. However, it should be noted that in the 6 games prior to that one the Spurs stifling defense held him to an average of just over 22.

Look for Durant and Tony Parker to put on a shooting exhibition "All Star game style". In the last meeting with the Thunder Eva Longoria's ex put up 37 points.

San Antonio (59-16) comes into this one averaging 105.6 points per game while Oklahoma City (54-19) has scored 106.2. On defense, the Spurs yield just 97 on average with the Thunder allowing 99.4.

OK City is 31-7 at home and San Antonio has a road record of 29-8.

San Antonio has no significant injuries at this time while Oklahoma City will probably be without Kendrick Perkins, Thabo Sefolosha and PG Reggie Jackson who has missed the last 2 games with a back issue.

As previously mentioned San Antonio comes into this one on a 19 game winning streak and the Thunder has won 2 in a row and is 8-2 in their last 10.

Even with the Spurs hot hand coming in, Las Vegas has Oklahoma City as a consensus 4 point favorite (-$110) and the over/under is set at 208 total points.

Latest Sports Betting Trends:

The San Antonio Spurs:

24-19 ATS This Year Vs. Good Offensive Teams (Averaging 99+ PPG)
17-14 ATS This Year Against Winning Teams
6-0 ATS In Their Last 6 Games Against Teams With A Winning Percentage Of 60% Or Better
11-6 ATS This Year When Playing Without Rest, Including A Perfect 4-0 ATS In Their Last 4
10-1 ATS In Their Last 11 After An ATS Victory

The Oklahoma City Thunder:

25-18 ATS This Year Vs Good Offensive Teams (Averaging 99+ PPG)
18-14 ATS This Year Against Winning Teams
6-1-2 ATS In Their Last 9 Home Games
11-3 ATS In Last 14 Games When Playing A Team With A Winning Percentage of 60% Or Better
1-4 ATS In Their Last 5 Games Following A Double Digit Victory

My Pick:
San Antonio Spurs +4


San Antonio is too good of a team to keep losing in this series. They are overdue for a win here. The fact that the public is moving the line only makes me like them more. San Antonio is one of those teams that seems to step it up when the competition gets steeper. I wouldn't be surprised to see them win it all this year.

Thanks for reading! Before betting on the NBA online, be sure to visit our Online Sportsbook Reviews. We have 38 employees who constantly test these sites to bring you only the best online sportsbooks!