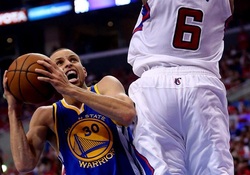 L.A. VERSUS THE BAY

The Los Angeles Clippers became Tinsel towns favored NBA entry this season as Kobe watched his Lakers dismantle from the sidelines.

With all the toils of Blake Griffin and Chris Paul all they got to show for it was a first round matchup which in other years could have been a Western Conference final.

Stephen Curry and the Golden State Warriors stole home court advantage in game one by defeating the Clippers 109-105 at the Staples Center.

The Clippers came back in resounding fashion in the 2nd contest downing the Warriors by 40 (138-98) behind Griffins career playoff high 35 points scored and zero foul performance.