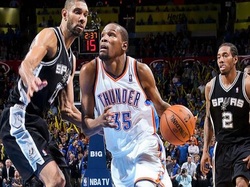 Ibaka is back!!!

I'm not sure that the above statement actually strikes fear into the San Antonio Spurs, but it should at least elicit strong concern.

The 2014 NBA Western Conference Finals between the Spurs and Oklahoma City Thunder resumes on Tuesday night. Game 4 at OKC will be available for viewing via TNT at 9:00pm ET.

This series began in Texas and it appeared that San Antonio would have little problem disposing of the Thunder.