Could an NBA game be fixed? That's a very good question. Really, that is a very good question, because we've all seen some suspicious or miraculous play, or sometimes calls that determine the outcome. We've heard or learned about fixed games in several other sports around the globe. Football may be the No.1 on the list. Many times have we heard about fixed football games, sometimes even in the news. We've even seen people going to jail with accusation of participating in the fixing of football games. But on the contrary, have you ever heard of anyone going to jail because he fixed a basketball game? Nope? Me neither.

And there is a good reason for that, be sure.

That reason is why basketball should be loved more by fans in comparison to other sports. At least, that's one of the reasons I love it more.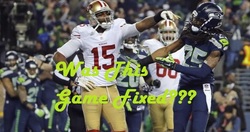 It's simple. It's not easy to fix a basketball game. Really, it's not. And I am not saying it's impossible. It's just difficult.

You see, when a football game is about to get fixed, things are very easy. The players of the one team are told to play loose while the other team doesn't have to do much. Maybe not even the referee is needed to get involved. After all, it's not that difficult to score a goal in a 24'-wide goal, right? In another case, just the referee could get involved. With a couple of wrong calls, maybe a penalty or two given to the one team, the game's result is changed. Easily and quickly.

We could say that it's also easy to fix an NFL game. One team just doesn't play aggressively, cuts down on its defensive effort and there you go, touchdown.

However, in basketball, that's not the case. Even when one team chooses not to play well on purpose, this doesn't mean that the other team will be able to score. Really, it takes much more than bad defense for a basketball player to score. Plus on the other side, a player might end up scoring the ball even if he doesn't want to. What do I mean? Well, how many times have you seen a late game situation, when a player is on the free-throw line and he has to miss it on purpose, because his team needs more than just one point? It's pretty common right? Ok. Now, how many times have you seen that same player accidentally making the free-throw instead of missing it? I've seen that happening hundreds of times.

Professional basketball players are shooting with their own, unique style, their own motion and pace. So it's not that easy to command their body to try and miss, because, when talking about shooting, it's something like an automatic move for some players.

Now, again, I am not saying that NBA games can't be fixed. They can. It will just be too difficult. Players would have to become good actors to achieve that. Things could get out of hand and everyone watching could easily understand that a player is missing badly open shots on purpose. So, why would anyone risk fixing an NBA game?
Of course, bets and vested interests will always play a role. But still, it would require a good scriptwriter, a director and some hours of acting lessons to the teams to achieve that.
I really don't know if any NBA game has ever been fixed. I tend to believe no, at least in its modern history, since the time I started watching and playing the game. And that's one of the great reasons to love basketball. After all, why would you get obsessed with a football or soccer team, cheer for it to win, when all this is a lie? When the game's result is known (by some people) even before it starts?
Thanks for reading! If you are looking for the best online sportsbook bonuses, visit this page.