After a full month of the 2013 college football season, it is clearly evident that Alabama is still the king. The Tide's stellar defense will keep head coach Nick Saban's squad in contention for another national title this year. What is not so obvious is the one team to look out for this year - the University of Washington.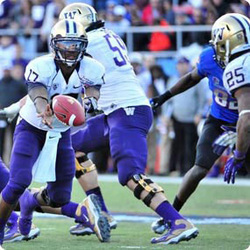 The Huskies are 4-0 after a huge 31-13 win over previously unbeaten Arizona. RB Bishop Sankey, the nation's No. 2 rusher, carried the ball 40 times, a school-record, for 161 yards and a touchdown in the victory.

Washington surprised the nation on the opening weekend of the season when it completely dismantled perennial power Boise State, 38-6. The Broncos were ranked No. 19 in the preseason but the Huskies, again led by Sankey and senior QB Keith Price, handed Boise State their worst loss under head coach Chris Petersen.

With Sankey and Price, who has been the starter at QB since his sophomore year, the focal points of a very good Washington offense, it has been the Huskies' defense which has really shined. Washington is fourth in the nation in scoring defense, yielding just 10.8 points per game, about four less than the vaunted Crimson Tide defense.

The Huskies are sneaking up the rankings and, in the latest AP poll, were ranked No. 15. The next three weeks will show if head coach Steve Sarkisian and Washington are for real. The Huskies face No. 5-ranked Stanford on October 5 and then host No. 2 Oregon the following week. Arizona State, ranked 22nd, looms the week after Oregon.

It's a murderous schedule for Washington in the Pac-12 North Division, but one that will prove that the Huskies are the surprise team of 2013. A few big wins and Washington will be thrust into the national championship discussion.