Famous and world renowned sports betting legend Billy Walters has made headlines recently by wagering $100,000 of his own money on the Republican Party maintaining the majority in the House of Representatives after the 2014 midterm elections. The Center for Public Integrity recently discovered a $100k donation had been made to a GOP affiliated political action committee (PAC) called the Congressional Leadership Fund. The donator is listed as a limited liability company called T STAR III LLC, which business records indicate is managed by none other than Billy Walters himself along with his partner Michael E Luce.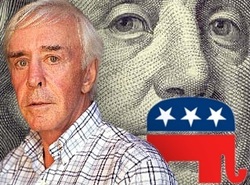 Walters is also CEO of the Las Vegas-based real estate company The Walters Group, where Luce serves as the organization's president. The Walters Group has invested heavily in high end golf courses in Vegas and around the world in recent years. During a 2011 interview with the television show 60 Minutes, Walters bragged about once winning a $400k bet on a single hole of golf, and a $1 million dollar gamble on a round of golf with a friend. As recently as February, a former maintenance officer at one of The Walters Group golf courses pled guilty to "messenger betting" on behalf of ACME Group Trading, another company owned by Walters.
The $100k donation to Congressional Leadership Fund is the super PAC's second highest donation ever. Surprisingly, it isn't the first time Walters has been involved in funding political campaigns. He contributed $25k to the campaigns of Clark County Commission officials who were seeking re-election to their posts in 2012, in a move that Walters himself described as being more of an investment than anything else. Nevada-based columnist Jon Ralston recently reported that T STAR II LLC had donated a total of $15k to other area races since 2011. Congressional Leadership Fund is heavily tied to current Speaker of the House John Boehner, who played a round of golf with real estate mogul Donald Trump after the businessman made a similar donation in 2012. Now commentators and journalists alike wonder if Mr Boehner will soon be teeing off with Mr Walters. If so, will Boehner shed tears once he is soundly defeated in a round of golf?
The Republican Party's record of taking extreme measures against gambling makes Walters' donation all the more strange to many industry insiders. Then again, since Walters is known to utilize international sportsbooks in his high-stake wagers as opposed to Las Vegas establishments -- that tend to bar individuals such as himself from making large wagers on events -- then perhaps he is more upset with the crusade against online gambling that has been waged by the Department of Justice since Obama became president. Curtailing a man's livelihood can often lead to such a radical response.
These online sportsbooks are also known for their extensive prop bet and futures odds!