Have you ever watched one of those baseball highlights on SportsCenter where the umpire misses a call that is so obvious to everyone else in the stadium? If so, have you ever said to yourself, "I wonder how much he had on the game."

That leads us to the title of this article, Can Baseball be "Fixed"?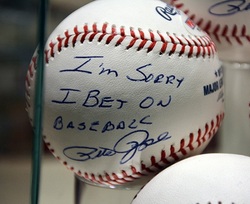 Of course an individual umpire can make a crucial call that might determine the outcome of a game. But then how would he know that he would be put in that position ahead of time.

Add to that the new rules effective this season that will allow replay challenges for more game situations and the umpires direct influence is somewhat diminished. So why don't we just go by the proven theory that "the ump is blind as a bat!"

There was the Tim Donaghy scandal in the NBA. Donaghy was a referee who pled guilty to two federal charges resulting from betting on games he officiated and then making calls to influence the point spread. But that was basketball and we all know fixing goes on there (just kidding). Besides, normally there is no point (run) spread in baseball, just the moneyline and over/under.

Baseball had the Pete Rose saga where poor Pete could not resist betting on his sport when managing Cincinnati. He was accused of betting on 52 Reds games in 1987 at a clip of $10,000 per contest. To his tainted credit it was reported that he always bet on his team to win versus any implication that he would "throw" games in the other teams favor for his financial gain.

Then of course there was the "Black Sox" scandal during the 1919 World Series where several members of the Chicago White Sox, including "Shoeless" Joe Jackson, were accused of throwing the series against none other than the Cincinnati Reds 68 years prior to the Rose shenanigans.

So would any of today's players participate in such a plan?

It is highly unlikely with the 2014 MLB minimum salary being set at $500,000 and all-star caliber performers making north of $20 million annually. What would be their motivation, if not money, which would not be an issue for the guys with the most potential to affect an outcome?

What about organized crime and perhaps their relationship to Sportsbooks?

This is not your Grandpa's Vegas, nor is it his Atlantic City and the internet was something he may have read about in a science fiction book.

Once again with the financial aspect of today's corporate influence in the gaming industry there is no motivation to break the law to make money. Some may even think the bookies "juice" is a crime in and of itself. There is a reason new casino's keep popping up on the strip and legalized gambling (if you include horse racing) exists in 46 states.

If you think the mob influence may still be prevalent, the days of Benjamin "Bugsy" Siegel and Meyer Lansky are long gone from Vegas and I don't know about you, but I miss them.

Here's the big question: What about the bookmakers (in Vegas, and online around the world)?
This is where there could be the best possibility of someone fixing baseball games. "Fade the public" has been a way of betting for many wiseguys. Sports betting is a multi-billion dollar enterprise annually. So if anyone would have the money to pay off players or officiating crews, it would be the sportsbooks themselves.
The idea of creating spreads and moneylines so that players can bet on games was originally to make it even. So that there would be close to an even amount of action on either side of any wager. But that's not the case! And that suggests that oddsmakers can't really analyze outcomes as well as many people think. Every day there are games that see percentages of public wagers coming in at 60%, 70%, 80%, even 90% on one side. And on most days, some of those games are getting a lot of action, much more than the rest of the contests on the day's schedule.
So could bookies (financially well-off bookies of course), be fixing baseball games? Anything's possible. And if anyone was to fix a game, it would probably be the house. That way they don't lose their ass on some really busy matchups.
Thanks for reading! If you are going to bet on baseball this year, and many pros say betting on baseball is the easiest, make sure you read our online sportsbook reviews for the best sports betting sites!
If you're strictly looking for the best betting bonuses, click here.