SOCHI -- With the qualifications completed for the Quarterfinals, here are how the odds are currently stacked for this year's Olympic gold medal in men's hockey:

During the qualification games that took part on Wednesday, Slovenia was defeated 5-0 by Sweden, while Finland delivered the biggest upset of the day by beating Russia 3-1. Canada triumphed over Latvia is a highly contested 2-1 game, while the United States vanquished the Czech Republic with an easy 5-2 win.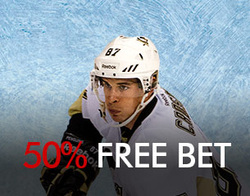 According to odds makers from online sources like Bovada, the Canadian team still remains the favorite to capture the gold medal this year with 8/5 odds, while the United States is the second choice at 9/5. Sweden follows a distant third with 16/5 odds while Finland has the worst chance of the lot with odds at 13/2.
Friday action begins at 7:00AM EST with Sweden playing against Finland. In one of the most anticipated match ups, the second odds favorite United States will play against the favored Canadian team at 12:00PM EST. Sweden currently is the -170 favorite versus Finland which is at +140. At the same time, the over/under for the match up is currently at 4.5 goals. Meanwhile, Canada is -115 while the United States is -105, and the total for that match up is 5.5.
The final ice hockey match will mark the conclusion of the end of the 2014 Winter Olympics in Sochi. This event is scheduled to take place on Saturday at 10:00PM EST.
Bovada's current 2014 Men's Ice Hockey Odds For Winning The Gold Medal This Year:
Canada, 8/5
United States, 9/5
Sweden, 16/5
Finland, 13/2
Thanks for reading! For the best online sportsbooks to bet Olympic Hockey with, click here!