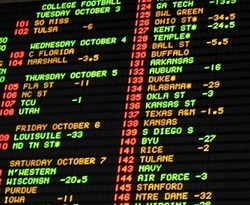 With only 30 days to go until the 2015 College Football Season kicks off, let's take a look at how the oddsmakers like the top school's odds to take home a championship this year.
How is your favorite team's odds to win the 2015-2015 Football Bowl Subdivision? According to the
Bovada Sportsbook
, a leader in College Football Futures odds, only 4 out of 128 teams have greater than 10 to 1 odds. Last years' champion, Florida State, opened up at +3300 after losing Jameis Winston to the NFL; but they've gained some steam since they acquired Everett Golson to replace him and now sit at 20 to 1 (+2000). As you probably know, Ohio State is the clear cut favorite with odds greater than 3 to 1 (+275). But who are the other three top rated College Football teams according to Bovada?
Ohio State+275
Alabama+700
TCU+700
Auburn+700
USC+1600
Notre Dame+2000
Baylor+2000
Florida State+2500
Oregon+2200
Clemson+2200
Georgia+2800
Louisiana State+2800
Michigan State+2000
Oklahoma+2800
Michigan+5000
Mississippi+5000
Stanford+3300
Texas A&M+5000
UCLA+4000
Arkansas+5000
Arizona State+10000
Florida+10000
Oklahoma State+10000
Tennessee+5000
Mississippi State+10000
Nebraska+10000
Texas+10000
Wisconsin+10000
Arizona+15000

Georgia Tech+7500
Louisville+15000
Miami FL+15000
Missouri+15000
Penn State+10000
South Carolina+15000
Utah+25000
Virginia Tech+10000
Boise State+15000
Kansas State+10000
Texas Tech+50000
Brigham Young+25000
North Carolina+30000
Washington+50000
West Virginia+30000
Boston College+50000
California+50000
Cincinnati+50000
Duke+50000
Iowa+50000
Marshall+50000
Maryland+50000
Minnesota+50000
Northwestern+50000
Oregon State+50000
Pittsburgh+50000
Rutgers+50000
South Florida+50000
UCF+50000