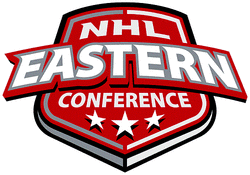 Let's take a good look at the 2014 NHL Conference Semi-Finals. We'll start off with the Eastern Conference since it started first with the Canadiens surprising the Bruins with an upset win in Boston.

Keep scrolling down for our take on the Western Confernce.

Montreal Canadiens vs. Boston Bruins

1st Round Results – Montreal over Tampa Bay 4-0, Boston over Detroit 4-1

Regular Season Series – Montreal 3-1

Don't let the 3-1 series season edge in favor of the Canadiens influence your thinking too much. The Bruins also dropped 3 of 4 to their first round opponent, Detroit and handily dismissed them in 5 contests.

This meeting of original six opponents marks the 34th time they have met in the playoffs. Boston is 7-4 in the last 11 of those encounters.
Montreal has the size to match the "Beantown Brawlers', but more importantly also possess the speed making it difficult for Boston to play at the more methodical, steady pace it prefers.
Boston has the experience factor on its side which is all-important during the postseason.
They lost the Stanley Cup Finals to Chicago last year after winning it all in 2011.
Jarome Iginla, Shawn Thornton, Patrice Bergeron and Zdeno Chara highlight the veteran core.
Add to that net minder, Tuukaa Rask and it is hard to argue against the Bruins being favored.
That said, Rask is 3-10-3 in his career versus the Canadiens while Boston goalie Cary Price is 17-8-3 against the Bruins. Either goaltender is capable of getting hot and carrying his team to an ultimate victory.
Watch for the Thomas Vanek, Max Pacioretty and David Desharnais line to ignite Montreal's attack.
I see this series going to a game 7 in Boston and the Bruins superior experience being the difference in the end.
Note: Before betting on these hockey matches, be sure to check out our online sportsbook reviews. We'll find the best online sportsbook for you, and we always guarantee the best betting bonuses!
New York Rangers vs. Pittsburgh Penguins

1st Round Results – New York over Philadelphia 4-3, Pittsburgh over Columbus 4-2

Regular Season Series – Tied 2-2

These two teams are on convergent paths as the Rangers attempt to restore playoff credibility while the Pens want to recapture their Stanley Cup charisma last seen in 2009.

It took Pittsburgh 4 games to wake up and avoid an extreme upset against the upstart Blue Jackets. The final 2 games played in the series were the Penguins best by far.

The Rangers were one goal better than the Flyers in Game 7 (2-1) and will be playing their third game in four days when this series begins on Friday night in the Steel City.

The question with Pittsburgh is whether or not Sidney Crosby will ever score another postseason goal? (Just kidding…I think). It has been 11 straight games since "Sid the Kid" has seen the biscuit cross the goal line off his stick in playoff competition.

The presence of Rangers goalie, Henrik Lundqvist will not make this chore any easier. He has 2.26 goals against average and 92% save percentage in his 574 career starts.

Pens goalie Marc-Andre Fleury will have to improve dramatically over the previous series where he allowed Columbus 18 goals in the six games played.

I like the additions of Rick Nash and Martin St. Louis to the Rangers lineup to go along with another vet, Brad Richards. Richards and St. Louis were responsible for 12 points (6 apiece) in the opening round.

This, along with the Lundqvist vs. Fleury matchup has me favoring New York in 6.

WESTERN CONFERENCE

Minnesota Wild vs. Chicago Blackhawks

1st Round Results – Minnesota over Colorado 4-3, Chicago over St. Louis 4-2

Regular Season Series – Minnesota 3-2

Chicago lost its first 2 games to the Blues then stormed back to take 4 in a row and the series.

Minnesota fought to a well-deserved 4-3 opening round victory versus the Colorado Avalanche. It seems everyone assumed the Avs and Hawks would meet originally in the first round before St. Louis took a dive and then certainly in the second round after Colorado beat the lowly Wild.

But this is the NHL and sometimes the puck bounces in strange ways.

This group from Minnesota is a worthy opponent.

Unfortunately it is also a team playing with a third and perhaps now fourth string goaltender.

After Semyon Varlamov went down, the Wild were forced to go to Darcy Kuemper and then he was injured in Game 7 against Colorado setting up the possibility that Minnesota will have Ilya Bryzgalov in net to open the series. Bryzgalov can be brilliant or a disaster in any given game.

My vote goes for disaster in this series with the likes of Jonathan Toews, Patrick Kane, Marian Hossa and Patrick Sharp at Forward for Chicago.

Minnesota has a more than reputable core of Zach Parise, Mikko Koivu, Matt Moulson and Ryan Suter to go along with up and coming youngsters like Nino Neiderreiter, who had the OT game winner in Game 7 vs. Colorado and Erik Haula and Charlie Coyle.

You just can't bet against the defending NHL Champs in this one so I'll take Chicago in 6.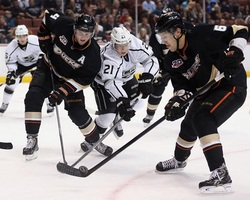 Los Angeles Kings vs. Anaheim Ducks
1st Round Results – L.A. over San Jose 4-3, Anaheim over Dallas 4-2
Season Series – Anaheim 4-1
This would be a subway series if California had subways but I'm not sure that they do. You know with the earthquakes and stuff.
However, whatever mode of transportation you select to get to the games it should be worth it.
The Kings became only the fourth team in NHL history to overcome a 3 game deficit in round 1.
The Ducks will be dedicating this one to Teemu Selanne who at the age of 43 may be appearing in his last postseason.
Their task will be made very difficult given Kings Goalie Jonathan Quick's resurgence in the previous series. He allowed just 2 goals in the final 3 contests against the Sharks.
It won't matter whether Anaheim goes with the beleaguered Frederick Andersen in goal or Jonas Hiller, neither can match Quick's talent. Andersen gave up 3.40 goals per game and posted an 89.2% save percentage in the previous series before being pulled in Game 6.
A key matchup to watch will be between the Kings Anze Kopitar and the Ducks Ryan Getzlaf.
The Ducks Nick Bonino and of course Corey Perry will also be forces to be reckoned with.
The Jeff Carter, Tyler Toffoli and Tanner Pearson line should lead the Kings attack.
Goaltending wins in the postseason so I'll take Quick and Los Angeles in 6 games.
Thanks for reading! Before you bet on hockey online, we strongly urge you to check out our online sportsbook reviews first. Don't risk getting burned by one of the bad apples still in operation, we know exactly who the best online sportsbooks are!