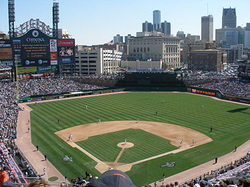 The Detroit Tigers may not be the best team this season, but they have certainly taken one excellent record so far. We're not talking about any ordinary record, we're talking record profits for many totals bettors. A record of 19 complete overs in nineteen consecutive games. The Tigers might not have won all of those games but showed enthusiasm and claws to score runs.

One of the most difficult records to date regarding total runs for a single team. This record dates from 1999 when the Miami Marlins were the only team known to complete the over bets in 15 games. Of course at that time betting was a bit different and statistics were not recorded as easily as they are today. But these days betting is available on any smart device with internet with just one click, while internet and technology provide the means to record every stastistic imageinable.

There are many records in Major League Baseball, but very few have to do with gambling. The Tigers impressed many gamblers worldwide with their extraordinary record.

It all started in Cincinnati on June 17, 2015, the last game of their series with the Reds. That game was won by Cincinatti, 8-4, seeing a total of twelve runs and smashing the total of 6 1/2 set by oddsmakers. The Tigers lost that series against Cincinatti and were only able to win nine of those nineteen games overall. They lost the other ten games to teams such as the NY Yankees, Chicago White Sox, Pittsburgh Pirates, Toronto Blue Jays and the Seattle Mariners. As visitors, they completed the Over in ten games during the stretch, winning five of them. The other nine Overs took place at Comerica Park, where the Tigers managed to win only four of those games.


Below is the complete list of games in which the Tigers hit 19 straight Overs:
Opponent

Reds
Yankees
Yankees
Yankees
Indians
Indians
Indians
White Sox
White Sox
White Sox
Pirates
Pirates
Pirates
Blue Jays
Blue Jays
Blue Jays
Mariners
Mariners
Mariners



Home/Away

Away
Away
Away
Away
Away
Away
Away
Home
Home
Home
Home
Home
Home
Home
Home
Home
Away
Away
Away

Over/Under

6.5
8.0
8.5
8.0
9.0
7.0
8.0
8.5
8.0
7.5
7.5
8.5
9.0
8.5
8.0
9.0
7.0
7.5
7.5

Final Score

4-8
2-7
3-14
12-4
8-5
7-3
2-8
7-8
5-4
5-4
4-5
3-9
4-8
8-6
8-3
5-10
12-5
6-7
5-4


Result

Over
Over
Over
Over
Over
Over
Over
Over
Over
Over
Over
Over
Over
Over
Over
Over
Over
Over
Over
As you can read above, what really stands out was the record of winning the Over 19 times. But the Tigers performance was not particularly good. They allowed more than 6.5 runs per game on average when playing on the road. When they were playing at Comerica Park, the Tigers scored 5.5 runs per game on average and still lost most of their home games during the streak.
The players know they must improve in order to try to earn the Wild Card pass in the American League. At the All-Star Break, they are still in a tight battle with the Kansas City Royals for a spot in the postseason.
The General Manager of the Detroit Tigers, Dave Dombrowski, is confident his team can get a spot in the postseason if they improve on some aspects, mainly pitching.
"Not particularly pleased with where we are," he said in the last press conference before the team went on the short 4 day vacation. "But we're also in a position where if we play up to our capabilities in the second half, we have a chance to win still."
If the Tigers improve their game, they can get their place in the postseason, but only time will tell. But the way they are playing Major League Baseball at the plate, on the mound and on the field, we wouldn't be surprised to see another Over streak before the 2015 season is over.
Be sure to visit our online sportsbook reviews for the best online sportsbooks to bet on totals!