Thanks to a court decision, the popular daily fantasy gaming site DraftKings was able to avoid a shutdown, but the company's long term future in the New York marketplace is far from certain.

An Appellate Division judge decided to allow the company to continue running in the Empire State, which temporarily froze a previous shutdown order from a judge in a lower court of law.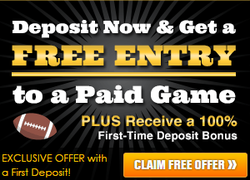 DraftKings' attorneys were quick to claim victory and believe that they have struck a significant blow for remaining in business over the long haul. FanDuel, who serves as DraftKings' primary rival in the daily fantasy business, will also allow New York customers to enter their contests as a result of the rulings.
The reprieve remains in effect until January 4. DraftKings is hopeful that this stay of execution will give them the chance to soothe the growing discontent among the financial firms that support them. However, the fears of daily fantasy players who sense that legal momentum is mounting against their preferred form of gaming.
Players all over New York are beginning to remove their monies from daily fantasy site, in preparation for what they believe is the inevitable. It is believed that daily fantasy players from all corners of the United States are also in the process of pulling their money out, as well.
For DraftKings supporters, the most troubling development of the day took place when a lower court judge named Judge Manual Mendez made a controversial ruling. Mendez ruled that it was likely for a court of law to decide that DraftKings was a prohibited form of gambling.
Mendez' ruling stated that the balance of interests was much more favorable to the state of New York. The state of New York has a vested interest in protecting the general public, especially those who are struggling with gambling addictions.
Mendez also systematically tore apart every one of the defenses that were trotted out by the DraftKings defense team. Instead of accepting their defense that the games were skill based and that customers' bets were simply "charges", Mendez pointed out that DraftKings customers were still risking "something of value".
According to DraftKings, being closed out of the sizable New York marketplace would be devastating to their business. A final decision regarding the fate of daily fantasy gaming sites is not expected for several months and on January 4, a panel of judges will decide whether the shutdown order goes into full effect.
DraftKings employs about 250 people in Boston alone and claims have paid out over $1 billion in prizes over the past year. Companies like DraftKings keep roughly 10 percent of the revenue that they generate, while paying out the rest of the money in the form of prizes.
DraftKings Bonus Offer: Sign up for a DraftKings Account
through this link
and receive a 100% bonus on your first deposit!
Click here for more information
.