Curacao – August 28, 2015: The GTbets Sportsbook/Casino has recently begun accepting
BitCoin
as a form of payment. This allows people to use another form of currency when placing sports bets and gambling inside the online casino.
BitCoin is gaining popularity worldwide. It is a form of digital currency that uses a unique form of encryption and regulates the generation of currency units. It is also designed to verify the transfer of funds. More people are using BitCoin for online transactions because it eliminates the need to enter any kind of personally identifiable information on the website for purposes of making a payment.
GTbets Sportsbook/Casino is pleased to be able to offer BitCoin as a form of payment. It is also the first FREE withdrawal option that is being offered on the site. This allows clients to be able to withdraw their money to BitCoin without having to pay.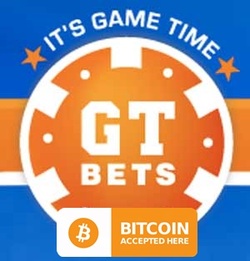 The minimum deposit on the GTbets Sportsbook/Casino site for BitCoin is $35, with a max of $3,000. For withdrawals, the minimum is $300 with a max of $2,000. There is also a limit of one withdrawal per calendar week.
GTbets Sportsbook/Casino has been able to differentiate themselves from other online sportsbooks and casinos in a variety of ways. They offer a signup bonus which is 100% cash up to $250 or 50% cash up to $500 depending upon the deposit. This is in comparison to free play on other sites.
There is a modest 10x wagering requirement on the site as well, which has resulted in high reviews for the site. The wagering requirement can be met within sports, horses, as well as most of the casino games. There are no unusual restrictions on the types of wagers that can be made in order to qualify, either. "Spreads, parlays, totals, teasers…they all qualify," explains the CEO of GTbets.
As long as the wagering requirement is met, there is no waiting period for when players have to wait in order to make a withdrawal. If they have the needed amount in their player account to meet the minimum, they can withdraw when they desire.
Now that BitCoin is added as a payment and payout option, GTbets Sportsbook/Casino is hoping to increase the number of players. They have been researching the options for a while and have listened to customer feedback. More people have been requesting BitCoin, so it was a decision that was made for them.
Real money accounts only take minutes to set up and can make it easy for people to make bets on sports, horses, and play an array of games within the online casino. Play can be done online as well as on the mobile app.
Contact: Website:
www.gtbets.com
Phone No:
1-800-509-4847
Promo Code (100% Welcome Bonus):
Betting411
For a complete GTbets review, please see our Sportsbook Review Pages.