Like everyone else who is fascinated with sports, bookies in Vegas know which teams are the best and which ones are the worst. Even with this knowledge, however, they can't be sure of who will win in a match up between two teams like the Broncos and the Jaguars. Fortunately, they don't have to be psychics in order to make money. Since predicting the future is impossible to do, they don't bother with trying it.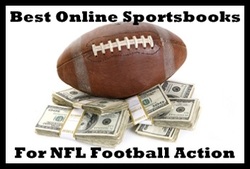 Surprisingly, a recent study by Harvard University economist Christopher Avery showed that in fact many of the spreads of NFL betting lines don't even reflect how the bookmakers think the game will actually turn out.
"The people who are setting the point spread are not trying to get the point spread right, in the sense of it's the best guess about how the game will turn out," Avery says. "They're trying to make money. So what they want to do is, they want to balance the betting on both sides."
What he essentially means is that bookmakers try to create a betting line in which half of the people viewing it will choose Denver, while the other half will choose the Jaguars instead. This creates a balanced situation where they will have adequate cash to pay off the winners with the money provided by the losers while still earning their commission in the process. Regardless of how the game turns out, the bookies are positioned to make money.
Jay Rood, the professional bookmaker charged with setting the lines for MGM's Vegas hotels says that while a balance is always desired, it can rarely be achieved. The point is attempting to create it in the first place so one can still earn profit from the gamblers. Still, that doesn't stop even the professionals from rooting for one side or the other.
"We always have an imbalance in the wagering," says Rood. "So we're always having to root for a certain side. And we'll be rooting for Jacksonville, I guarantee it, this weekend."
As Rood points out, even huge point spreads often aren't enough to chase away gamblers from picking the heavily favored teams such as the Broncos in their match up with the Jaguars.
Thanks for reading! Use our online sportsbook reviews to find out where to bet on football online!