As time passes, things change and new trends tend to come and go. One of the most influential changes that ever came about was the creation of the internet. Not only did the internet make everyone's lives easier, but it also offered new forms of entertainment. Things like online sportsbooks came about so that people no longer had to travel across the country to bet on sports, and could now play right from the comfort of their own homes! This being said, the internet also made some con artists' lives easier as well. There are some online sportsbooks that don't like to pay out, and this was a never a problem in the old "brick and mortar" casinos.

As with any scam, there are things to watch out for that could prevent you from falling victim to it. Nobody wants to lose money, especially to a scam artist. If you're out browsing for online sportsbooks to bet with, here's a guideline you should follow in order to ensure that you select a reputable sports betting site.

1. Check For Transparency

This is probably the single most important thing to check. If you see that the sportsbook has outstanding complaints from customers and they're able to explain publicly why the issue happened and how it's being solved, that's a good sign. This means that they're actually taking the time to look into the satisfaction of their customers rather than just blowing them off.

Many times, you'll find that scam sportsbooks will hold onto your money when you wish to withdraw it and they'll implement a number of stall tactics and excuses about why you should keep your money in the account and if you do they'll give you a bonus. This is almost always a sign that they do not intend on paying winning players, so stay away!

If for some reason your money actually is delayed at a reputable site, they'll reach out to you rather than you having to contact them and they'll offer other options that will allow you to withdraw your money immediately rather than having to wait. If you see that there's easy and open communication between the sportsbook and their players, that's a very good sign and they pass the first test.

2. Multiple Contact Methods

Going along with the first test, you'll often find that the legitimate sportsbooks will have multiple ways to get in touch with them if you run into an issue or even if you just have a question that you need answered. Before you ever make your first deposit, you need to be sure that that particular site has good customer service that responds quickly. This way, if there are issues with your deposit or withdrawal, you know that you can get a hold of someone right away in order to sort out the problem.

All this being said, you may find that there are some online sportsbooks who don't have a phone number that you can contact them at. This is actually fairly common and doesn't necessarily mean that they're a scam site. Many times, you'll find that those sites without phone numbers actually have a live chat or respond very quickly to their emails, so that works just as well.
3. Check For Reviews
As with anything, if you start doing your research on a company and find an overwhelming number of bad reviews and unhappy customers, that's a good sign that you should stay away. Obviously you need to take each review with a grain of salt, so it would be worth reading through a few before jumping to conclusions, but you need to be aware that if there is a large number of players who have had a bad experience, it's probably better off that you stay away.
The main type of complaint you want to watch out for is when people have issues with withdrawing money. This is a bad sign and should set off a red flag in your mind that that sportsbook doesn't want to pay out. This being said, you'll often find other signs surrounding those sites like having to request multiple times for withdrawal, bets being cancelled with no explanation, and even bounced checks at times. If you begin to see a pattern surrounding the withdrawal process, you should proceed with caution.
4. Check For History
This test goes right along with the reviews because they're intertwined. If you come across a company that doesn't have many reviews or information past a few months ago, this doesn't necessarily mean that they're a scam because after all, everyone has to start somewhere. This being said, there's no valid evidence to back the claim that they're reputable, so it's probably best you give them some more time to grow and develop and then see what people have to say about them a few months down the road. New sportsbook scams pop up often in the online betting world, but so do reputable sports betting sites such as
Carbon Sports
(read our
Carbon Sports Review
here).
If you're one to give new things a try, there's nothing wrong with that and you can often make out with some pretty amazing deals and bonuses this way, but you just need to be very careful and aware of the danger involved. If you're a new player, I would suggest you stay away from places that don't have a solid history behind them. If you're an experienced veteran, it's up to you to make the decision on your own and chances are you're well aware of this already, so good luck to you.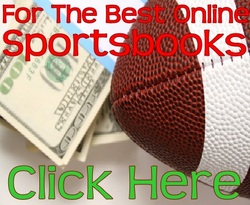 5. Extra-Large Bonuses & Offers
Everyone loves getting things for free, that's why bonuses work so well at attracting customers. This being said, there's a point at which big bonuses just become unrealistic and should send up a red flag if you come across them.
The idea of a scam sportsbook is to get you to put your money into the book and then never give it back. Keeping that in mind, if you come across a site offering a 200% signing bonus, you should probably take a step back and reconsider putting money down, because chances are, you're not going to be able to withdraw your investment.
Again, this ties right in with history and reviews, because as you might imagine, if there's a legitimate site paying out a large bonus, you can bet that there will be people talking about it! If you look around and see that there's a sportsbook that's known for their large bonuses and they pass the previous 4 tests, I think it's safe to say you can give them a shot!
Overview
In the end, there's always some risk to playing at a new online sportsbook, but all you can do is try to minimize that risk and the rest is in their hands. After all, as far as we know, it's still impossible to predict the future. Even some of the
best online sportsbooks
of today could turn out to be a lame duck down the road. But if you take your time to read to read reliable
online sportsbook reviews
from others who have played before you, use only the betting sites that have a clean operational history, and don't forget to collect your winnings as you earn them, chances are your bankroll will be in good hands.