Masahiro Tanaka – His Journey from Japan to the Bronx
INTRODUCTION
Masahiro Tanaka was the most sought after player on the MLB offseason market in 2013-14. His signing with the New York Yankees instantly lowered the odds of them winning the AL and The World Series according to
Bovada Sportsbook
, the leader in Futures and Propositional Odds.
He is a 25 year old right handed pitcher who played for 7 seasons in the Nippon Professional Baseball (NPB) Pacific League for the Tohoku Rakuten Golden Eagles. The NPB represents the pinnacle of performance on Japanese diamonds.
After being scouted by no less than 6 serious MLB suitors for his services it came as little surprise that he selected the New York Yankees as his team in America. Not only did the Bronx Bombers sign him to a 7 year $155 million dollar contract, they are also obligated to pay his former team in Japan a $20 million stipend for his rights.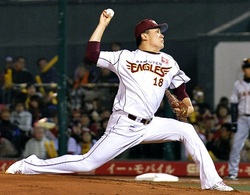 His acquisition immediately jumped the Yankees to among the favorites to win the American League pennant in 2014. Currently they are at 6-1 odds, second only to the Detroit Tigers (4-1).
EARLY YEARS
As a junior Tanaka led his high school team to the Japanese National High School Tournament title. While capturing the crown his pitches were clocked at as high as 93 MPH, previously unheard of at the high school level. In his senior year the team finished second in the tourney. He was a first round selection by the Golden Eagles in the 2006 NPB draft.
JAPAN PRO CAREER
Masahiro became a main stay and eventual ace of the Golden Eagles after making his professional debut in 2007. His first outing was a rough one, as he yielded 6 runs on 6 hits in just 1 and 2/3 innings. He was inconsolable on the bench upon his removal from the contest.
It only got better from there however as he came just one win shy of 100 against 35 losses in 172 Japanese starts (.739 win percentage). He pitched a total of 53 complete games including 14 of 27 in 2011. Tanaka also had 18 career shutouts. He fanned an incredible 1,238 batters in 1,315 innings of work and posted an overall ERA of just 2.30.
His last season in Japan his won/lost record was an unbelievable 24-0 with an ERA of 1.27.
OUTLOOK WITH YANKEES
Tanaka is expected to make an immediate impact on the Yankees starting rotation joining CC Sabathia and fellow countryman Hiroki Kuroda. Sabathia had an off year in 2013 and a rebound season will be necessary along with Mashiro acclimating himself to the major leagues for the Yanks to be successful.
He is not your prototypical MLB pitcher throwing with a three quarter arm motion in a drop and down delivery. He is capable of throwing his fastball at 97 MPH while averaging in the low 90's. He will occasionally throw a curve ball while preferring a hard slider and his "out pitch" is an 86 MPH splitter that sharply drops off the plate.
Masahiro should be somewhat familiar with all the attention he is sure to garner in "The Big Apple" given he is married to a Japanese celebrity. His wife, Mai Satoda is a member of the all-girl pop group, Country Musume.
Thanks again for reading! Before you bet on baseball online this year, you MUST read our Online Sportsbook Reviews. We not only find the best online sportsbook for you, but we guarantee the best sportsbook bonuses as well!