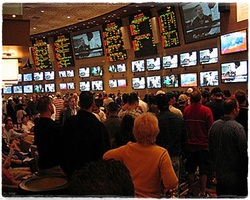 In a welcome piece of good news for sports betting fans all across the United States who have been waiting and hoping for the legalization of one of their favorite pastimes, at the end of last month a
report was published by ESPN
, in which a number of important public figures and officials declared that betting on sports is a game of skill.
Back in 2006, the
Unlawful Internet Gaming Enforcement Act
was passed, which created a loophole for fantasy sports betting, on the basis that fantasy sports are a game of skill. Since sports betting is universally recognized as a game of chance, they have been excluded from this loophole, to the disappointment of many.
Attorney General Loretta Lynch has since spoken out against the allegations. In 2013, she wrote that sports betting is not a game of chance, but rather a game of skill. She believes that substantial skill is required to participate in sports betting and that bettors are typically able to exploit their superior knowledge about the sports they are betting on.
Even though sports betting does not have a bearing on the outcome of games being played, Lynch points to the movement of betting lines as evidence of the skill involved in sports betting. Specifically, she spoke about the common strategic practice of placing a smaller bet on an initial line, while waiting for the betting line to move, so that the bettor can then make their larger bet on the spread that they originally anticipated.
After these arguments were made during the case, the Justice Department still received a ruling in their favor. From there, the next battle regarding the skill vs. luck argument took place when the state of Delaware attempted to institute a sports lottery that would be based around professional football outcomes.
The NFL hired a law firm, who argued that Delaware should be prohibited from instituting such a gaming policy, since sports betting is based primarily on the skill level of the participants and is not a game of chance. The NFL's legal counsel believed that Delaware would in violation of their own state laws by allowing a football lottery to be played.
While allowing for an element of chance, the NFL's lawyers wrote a memo speaking out against the perception that sports betting was not skill based. They included examples of bettors who spend a great deal of time gathering as much information about the games they are investing their hard earned money on, as well as the amount of research and homework many sports gamblers take part in before placing their bets.
Probabilities are weighed, as well as injuries and recent transactions made by either team. The NFL was successfully able to keep Delaware from adding their proposed football lottery, and current commissioner Roger Goodell is opposed to legalized gambling. He has also stated that he sees no change in his opinion as being imminent and that the NFL is happy with the current status quo.
Compare Goodell's mindset with a more forward thinking, such as the NBA's Adam Silver. Silver believes that sports betting is simply a part of the fabric of life in American society and does not see any benefit to ensuring that sports betting remains in the shadow. He has stated on several occasions that he would like to see gambling removed from the underground and given an opportunity for mainstream acceptance.
Another case that will become informative going forward is
New Jersey's pending lawsuit
, in which Governor Chris Christie is currently locked into a battle with the MLB, NHL, NBA, NFL and NCAA about whether the Garden State is going to begin to provide sports betting in the same style as Las Vegas.
To many, it seems as if we are edging closer and closer to a day when sports betting becomes legalized. The emergence of sites such as FanDuel and Draft Kings have been
a mixed blessing to the sports gambling community
.
They are drawing valuable money and attention away from sports betting, but they have also served as an important reminder that sports betting is not nearly as luck based as the skeptics would have you believe.
Sports betting is clearly a game of skill. There is a reason why so many are able to provide themselves a viable income or supplement their regular source of income with the proceeds from their victories. No one is infallible and losing streaks will happen. But to claim that sports betting is merely a process of luck, as opposed to something that takes a great deal of experience and research before becoming adept is doing a major disservice to the industry of sports gambling.
To many, sports betting is not like the other games you will find at a casino, where a person knows how slim their chances are of turning a profit or making the right bet. If a bettor researches weather conditions, team and player tendencies, as well as any other factors that could have a bearing on a game's outcome, can this really be called luck?
Simply put, it is not. Thanks to recent court cases such as the aforementioned, the misconception that sports betting is based on luck is now being challenged in a public forum, with a number of crucial and prominent figures speaking out on the side of sports betting being skill based.
As more and more court cases continue to pile up and fantasy sports betting juggernauts like DraftKings continue to grow, the evidence against the luck based argument is mounting and it is only a matter of time before sports betting is finally recognized as being skill based from a legal standpoint.
Thanks for reading! To find out where you can bet online legally, visit our Sportsbook Review Page.