I couldn't be happier today. Not because I don't like team USA. If I wasn't betting, I would be extremely upset seeing the Americans lose to Finland, 5-0 no less, in an attempt to at least earn a bronze medal. I like most people, thought we'd see Canad and the USA, or Canada and Russia in the final game for the Gold.

But it's not to be. One of the best goaltenders the USA has ever produced in Jonathon Quick got rattled for 5 goals by the Finnish. He held strong throughout the rest of the Olympics, and the first half of this game. But once the dam broke, the goals burst through like the ridiculous shoppers that wait for Black Friday.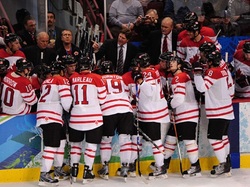 Finland is a small country that has much bigger love for ice hockey. The have produced many NHL stars such as Center Mikko Koivu, Center Valtteri Filppula, Aleksander Barkov, and Olli Jokinen.
The Fins pretty much held in check by the Americans for the first two periods. But they broke out for 5 goals by the end of the 60 minutes.
One important note is the size of the arenas the Olympic Teams played in. USA 2 of 3 at Bolshoy Ice Dome, while going a perfect 3-0 at Shayba Arena. Their were players, fans, coaches, and others mentioning that the ice was much better at Shayba. And many American players complained about the poor quality of the ice at Bolshov.
None the less, seeing the upset today, make me less afraid of seeing the favorite win tomorrow. Finland was a +150 underdog today against the Americans. Team Canada is currently listed at -175 tomorrow against Sweden.
I don't usually post my picks. But I feel like I'm going to win again for sure, and decided to post my play this time around. I don't offer my predictions to the public. But here and there I'll offer a free sports pick, like I did in the 2014 Super Bowl XLVIII.
Thanks for reading! For the best online sportsbooks to bet on tomorrow's game for the gold, click here!