Here's how things are shaping up in the NBA Conference Semi-Finals. We'll start off with the East. Scroll down, and continue reading for the Western Semi-Finals.

EASTERN CONFERENCE

Washington Wizards vs. Indiana Pacers (Indiana leads 2-1)

After Washington emerged victorious in the first game of this series many wondered whether their convincing first round series win against the Chicago Bulls was more than an aberration.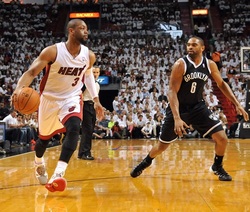 But 2 games later it appears the Wizards just played well against a team with no offense (Bulls) and that the Eastern Conference number one seed Pacers may have finally awakened from a prolonged nap.
Bradley Beal and Trevor Ariza combined for 47 points in the 102-96 Game 1 triumph.
In Game 2, Indiana's version of Rip Van Winkle, Roy Hibbert awoke scoring 28 points in the Pacers 86-82 victory.
Then in Game 3 the Pacers defense regained the effectiveness that had allowed them to enter the postseason as the Eastern Conference top seed as they beat the Wizards 85-63 in our nation's Capital Friday night.
It looks as though a rematch of last year's Eastern Conference Finals vs. Miami may yet be in the offing.
Click here to get a 100% bonus at GTBets, the best online sportsbook for US Players!

Brooklyn Nets vs. Miami Heat (Miami leads 2-0)
After 2 games in South Beach there is little question where this series is heading.
After the aged Nets showed some signs of life in their 7 game series against a very good Toronto team they look like they are ready to enjoy their retirement in Miami along with countless others.
The Heat slept walked through a 4 game sweep of Charlotte in the first round.
It seems like more of the same here as they won Games 1&2 by the combined score of 201-168.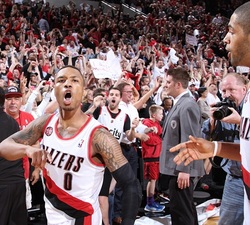 WESTERN CONFERENCE

Portland Trail Blazers vs. San Antonio Spurs (San Antonio leads 2-0)

This series may turn out to be more competitive then the Brooklyn/Miami matchup but at least after the first 2 games in the Alamo City it appears the Spurs may be on a fast track back to the 2014 NBA Finals where the Heat will once again be waiting.

Game 1 featured 33 points by Tony Parker in the Spurs 116-92 win and they followed that up with an easy 114-97 triumph in the series second game.

The task remains tougher in the West with 2 more wins being necessary against a good Blazers team and either a motivated group of Clippers or a resounding clap of "Thunder" waiting in the conference finals.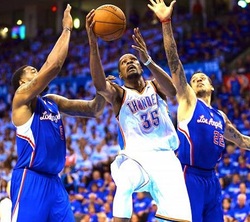 Los Angeles Clippers vs. Oklahoma City Thunder (OKC lead 2-1)
Opening up away from Tinsel Town and the Donald Sterling fiasco seemed to be good and perhaps even inspired the Clippers in their 122-105 victory against the Thunder in Game 1. Chris Paul had 32 points to carry them to the win.
In Game 2 Kevin Durant displayed his MVP trophy before the game and then showed how he had earned it by scoring 32 of his own to go along with 12 rebounds and 9 assists in a 112-101 Thunder win.
The Clippers scored 112 in Game 3. Unfortunately for them OKC tallied 118 as Durant's MVP tour continued with his 36 points, 8 boards and 6 dish offs.
Thanks for reading! Please, before you bet on the basketball playoffs, be sure to read our online sportsbook reviews. There are some bad sportsbooks in operation, and our main goal is to make sure you never get burned like we did, at one time or another. Click here to find the best online sportsbook for you!