The Boston Red Sox enter the 2013 World Series as a favorite over their opponent, the St Louis Cardinals. Bet365 currently has the Sox at -125 versus the Cardinals that are priced at +145. The Sox are playing in their first World Series since 2007, when they defeated the Colorado Rockies in an impressive sweep. The Cardinals, who were the champions of the 2011 Series in which they defeated the Rangers in an exciting seven game showdown, are currently viewed as the underdogs.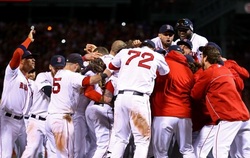 The two baseball clubs never played each other during the 2013 regular season. In fact, the two clubs haven't faced each other at all since 2008. Among the two of them, the Red Sox have the majority wins in interleague play during the season. Their performance during such games was impressive, with Boston outscoring their opponents 118-54 in total and posting a record of 14-6. By contrast, the Cardinals posted a 10-10 record in interleague match ups for the year and outscored their American League opponents a total of 100-75.
Click here to find the best online sportsbooks to bet the 2013 World Series!
The series will open Wednesday evening with arguably the two clubs' best pitchers on the mound at Fenway Park. Adam Wainwright is expected to start for St. Louis, while Jon Tester attempts to secure a win in game one for his Red Sox club. There are a total of seven games in the series, with the Red Sox the favored in the first one at -125.