According to Sportradar, the global sports betting industry is now worth somewhere between $700 billion and $1 trillion per year. Sportradar is a company that monitors worldwide gambling activity, collecting and researching data of over 55,000 sporting events annually.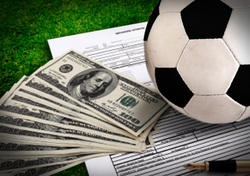 This new estimation was first reported by the
BBC
, and it states that more than 70 percent of sports betting action is placed on soccer games. The data represent bets placed in both the legal and illegal markets.
Many estimations of the global sports betting market have been reported lately. This report is both the latest and the largest of them all. The Sydney Herald recently reported that the global sports betting market is approximately $500 billion yearly. While a report that was released just before that, by Companies & Markets Research Group, said the worlds' online betting market alone will reach $173.5 billion by 2018.
The numbers vary from all of these reports on the global sports betting market, and there is no way to confirm how accurate any of them really are. But the reports could benefit sports bettors in the United States who are hoping to see new laws allowing sports betting locally. A number like a trillion should help to get the attention of lawmakers and politicians, which could help the cause for more sports-betting legalization in the USA. The taxes of such a number could help to bail out the US in many financial ways.
More than likely though, we'll need to see more credible reports being produced for US politicians to consider incorporating sports-betting legalization in their campaigns more often. Until we have definite reports to go by, these numbers are merely seeking attention from blog and article headlines, not US lawmakers.
See our sportsbook reviews to find out where to bet online!