As you may or may not already know, there's a multitude of reasons why individuals gamble. There are many who simply feel that it's a fun experience that offers a chance for great rewards, and there are others who participate in betting strictly as an investment. Whether it's the stock market, poker, sports betting, or any other type of gambling, anyone who plays for fun rather than investment is usually going to end up losing in the end. This is usually due to lack of an edge and/or poor money management. But wise investors, usually stock market and sports-betting investors wager with true overlays (edges), and apply proper money management techniques in order to make a profit over time.

According to the nature of sports betting, there are many "traditional gamblers", or those who are only there to have fun. This being said, there are so many of these that they typically will even outnumber the investors who are taking part in the event. On the flip side, the stock market draws quite the opposite crowd. Typically, due to the nature and complexity of the market, the investors will greatly outnumber those traditional gamblers who are just there to play around. For this reason, many people consider sports betting as a higher risk opposed to the stock market because winners always depend on the losers in order to make a profit.

All this taken into consideration, if you actually break down the mechanics of sports betting vs stock trading, sports betting is actually much easier to manage and is a much safer investment. The same concept applies to both, if you're not skillful in your plays and you don't have the edge or mange your money properly, it will be a losing venture for you no matter who you are. After hearing this, many people ask how to find that edge and that's a wise question. In reference to sports betting, this is easy because the information is publicly available! Once you've accumulated the data and information, you just have to analyze it and make your move, it's simple as that.

In terms of the stock market, doing the same could be much more difficult because the monitoring process is much more difficult. This being said, there are also many more unknown variables that come into effect and are able to throw off your analysis. On top of this, most of these variables aren't made available to the public, so gaining that same edge is close to impossible unless you have a foot in the company or the stock market itself. This being said, insider trading is still illegal, but it actually happens much more often than match fixing does in sports betting.

If you take all we've been discussing and apply it to bankroll, sports betting wins once again. Look at it this way, if you were to get a big edge in sports betting or the same edge in the stock market, which would you pursue? The correct answer is the sports betting route because there's simply a much larger return to be made on your money. If you break down the way a sports betting investor manages their money, the will refrain from betting anything more than 2 or 3% of their bankroll on any one bet. This being said, if you apply this and only bet at -110 (1.91) the odds are a fixed amount and you only need to hit 53% or more of your bets in order to turn a profit for yourself. Applying this concept, if a sports investor has a $10,000 bankroll, they're able to make hundreds of thousands of bets per year. If someone were to make 1,000-1,250 bets a year with the ROI of each bet being 10%, then that's $20,000-$30,000 profit for only a $10,000 investment in only a year. If you were to try to make this same return in the stock market, you'd need $100,000 or more and then you're subject to the overnight drop-off that could occur based on how the economy plays out. If you think about it, sports betting is the only investment that is 100% un-effected during an economic change.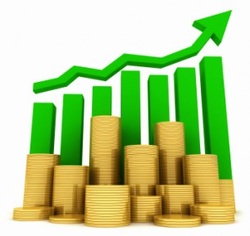 Lastly, there's one more reason why sports betting is the safer and more profitable way to go when looking to make a return on your money. In the stock market trade, there are various fees involved unless you have a very large capital. On top of this, many times people get confused because they only take into account the one set of fees, when in fact they actually have to pay those fees twice, once when buying and once when selling. On top of the buy/sell fee, you also have the bid and ask fee. This means that the buyer expresses what they're willing to pay and the seller expresses what they're willing to sell for and if you're buying, you're going to be forced to pay the ask price. On the flip side, when you're selling, you're only going to receive the bid price, rather than your ask price, therefore you'll receive less than you were looking for. This amount that's in the middle of the two prices is referred to as the spread and you may have already guessed that this goes right into the pockets of the specialist or broker who stood as being responsible for the transaction. These are some of the major fees, but there are plenty more that come into play as things get more complicated. Keeping this in mind, if you go back and compare again to sports betting, you'll find that there are no such fees and oftentimes you'll actually find places which will even cover the shipping charges to send you your check directly to your house! Typically, you'll find that the only commission kept at reputable places is vig. +EV handicappers will try to keep vig as low as possible or even eliminate by making value bets.
All this being said, the popular opinion that sports betting is extremely risky compared to stock market betting is actually quite untrue as long as you approach it with the perspective of investing. Before you get all excited about hearing this, you need to keep in mind that in the eyes of those around you, sports betting is looked down upon and stock trading is considered respectable. As you continue to move along in life, you'll often find opinions like this to be flip-flopped and it leaves you wondering if that myth was developed in order to cover up what's really profitable to those who don't take the time to dig deeper and research the topics for themselves. It's surely something to think about and it wouldn't surprise me if it was proven to be true!
For further information regarding
where to bet on sports
, please refer to our online
sportsbook reviews
.