The popularity of college football is on the rise and so are the billion dollar revenues generated from television and licensing contracts, sponsorships and the sales of memorabilia.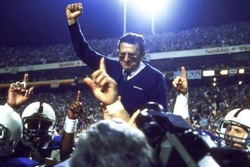 The power behind college football has grown so totally out of control, it's going to take radical transformation to turn this sport around. If something isn't done soon, there will be no point of return.
The entire system is faltering on the edge of annihilation due to scandals, bad conduct on the part players that role models are not even within sight. Fans have become totally disenchanted and have seen far more than they care to. Everything is based on power, greed and corruption.
What was supposed to be an amateur sport is now inundated by billions of dollars opening the doors for scavengers and their own private gains.
Corrupt agents, game executives and promoters are looking for a piece of the pie at all costs. Rules are being broken while total disregard for common courtesies are stomped on. Adding to this filthy pile are the head coaches looking out for their own desires.
Coaches are supposed to be the fabric that holds college football together, those who are supposed to be of the highest character. The people parents entrust their kids well being to. Coaches are lavished with the highest salaries in the school system while turning their backs on everything they were meant to hold sacred.
Coaches who are supposed to show leadership, character and values are now abusing their power. You needn't look any further, regarding their reckless disregard for decency, then Penn State. The sexual abuse charges surrounding Jerry Sandusky and coach Joe Paterno's indefensible passivity toward the entire situation.
Even though Paterno was fired, there are many who feel justice was never served. Read the accounts of the victims and what they had to withstand and tell me a slap on the wrist is justice. This coach is just another example of absolute power out of control. How any coach should be allowed that much power within a college and throughout the community is shocking.
Sadly, this sort of conduct is going on in just about every single college team across the country. At some point parents need to realize that power does not, nor can it ever, guarantee ethics and responsibilities.
Joe Paterno, Pete Carroll, Jim Tressel, Butch Davis; should any of these men be trusted? Should any of them be called American Icons?
Many insiders of college football have stated that honor and fair play are things of the past. Money hushes the scandals and abuses, leaving these institutions infested with out of control demoralization. With the lack of checks and balances the misuse of power will continue to weave its reckless disregard into the fiber of decency.
Whether it's a promoter paying off a player or a coach not stepping up to the plate with information regarding unscrupulous behavior, there is no excuse. Scandals are rocking the entire core of college football. Penn State, Florida State, Miami, Ohio State, Alabama and USC, where does it stop?
How many more schools need to succumb to wealth and greed before someone stands up and says enough is enough! College football has definitely become one of the most profitable sports to date, but at what cost. Integrity has been thrown to the wind along with our children.
The days of Army/Notre Dame are games of the past, days of honor and integrity. College football, in the 1940s, was a simpler time but it was also an era of honor and doing the right thing.
Sadly, you cannot watch a game that isn't inundated with corporate ads or watch the news without some scandal or another surfacing.
Unless those power players are held responsible for their actions, the system of college football will remain broken. Greed, power, exploitation, payoffs and lack of decency are like a cancer. It's eating away at a great American past time known as college football.
If action isn't taken soon, scandal and corruption will become synonymous with college football.
Thanks for reading! For information on where to bet on college football, see our sportsbook reviews.