I know a lot more than just information on online betting websites. I lived in Vegas for quite a few years, and live not far now. I wanted to do a take on my favorite Sports Books there, and why. I've bet at every single Sportsbook on and off the Las Vegas Strip. I still visit the desert once a month or so.

The Top 10 Sportsbooks in Las Vegas are all on the list for a very good reason. They are among the most popular sportsbooks that players turn to for some fun betting action.
The Top Ten Las Vegas Sportsbooks and Why
1. The LVH Superbook is run at the Las Vegas Hotel and Casino but used to be the Las Vegas Hilton. This particular Sportsbook sets the standard for all other sportsbooks throughout Las Vegas. It lives up to its name by being the biggest Sportsbook out there.

2. Second on the list is the MGM Grand Race Book and Sportsbook. This one is on the top 10 list because people who play there don't feel the need to leave the MGM and travel to other casinos for their sports books because The MGM Sportsbook is so comprehensive it's all they need.

3. The Mandalay Bay Sportsbook often attracts high rollers. Older players love the Mandalay Bay Sportsbook the best because it reminds them of gambling in the old days.

4. The Palazzo Sports Book is found at the casino's Lagasse Stadium. More than just a sports book it is also a bar and restaurant all rolled into one. With more than 100 screens there are plenty of sports games to watch and bet on at almost any given time.

5. The Sportsbook at Caesar's is legendary among gamblers. With such a long standing and well known reputation many people who regularly bet on sports games are happy and proud to do so at Caesar's Sportsbook.

6. The Cosmopolitan Race and Sportsbook set the bar very high when it comes to sports betting. Though it is one of the smaller Sportsbooks in Las Vegas it is also very alluring to players.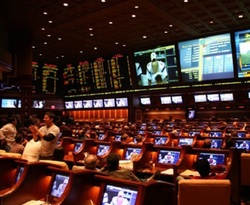 7. The Red Rock Sportsbook is not on the Las Vegas strip and for many people this is where the appeal lies. The viewing area for sports betting is 96 feet wide. Every day game highlights are shown and players are updated about all the games taking place at that time or in the near future. The odds for each game are displayed as well as information on various sporting events that can be bet on.
8. The Bellagio Sportsbook provides a luxury experience that other sports books don't. As a result many people flock to this particular sports book due to its reputation and the reputation of the Bellagio in general.
9. The Wynn Sportsbook is smaller than many other sports books in Las Vegas but makes up for its small size by catering to a wide range of players and provides a level of service that most other sports books simply don't.
10. The Aria Sportsbook makes players feel like they are betting on games from the comfort of their own living room. The atmosphere at the Aria Sportsbook is very conducive to watching and participating in sports betting without the frat party feel many sports books give off.
Each of these Las Vegas Sportsbooks is very impressive in its own right. I would recommend any one of these sportsbooks. Maybe you might want to try them all out. Maybe you'll find yourself getting lucky at one, and want to stay there (I do that sometimes). Or maybe you'll just want to play at the sportsbook closes to where you're staying. Either way, these are the best of the best. But there are a few close calls that could make the top ten with a few modifications. Or special offers.
Thanks for reading! If you are looking to bet on sports online, please visit our Online Sportsbook Reviews. There are a lot of scams out there, so called "sportsbook reviewers" even more so than the sportsbooks. Use our reviews to find the absolute best sports betting websites. We also guarantee to get you the best sportsbook bonuses!