Here are the early surprises in 2014 MLB Season. WHether iit be positvie suprises, or negative suurprises,These are, by far,the biggest surprises as we begin the 2014 Major League Baseball Season.

Ten days into the 2014 season is hardly an ample sample size as to how the MLB final standings will look come October.

That all being said there are some teams off to a solid start who are already making some heads turn.

In the American League we have the Seattle Mariners and in the N.L., the Miami Marlins, Milwaukee Brewers and San Francisco Giants are causing a stir.

Let's take a closer look as to whether these teams may be real contenders or simply pretenders as the year progresses.
Seattle Mariners

It appears the Mariners $240 million man (over 10 years) Robinson Cano is already paying dividends.

The left handed hitting second baseman is batting well over .300 with an OPS of .892.

More importantly the reason for his success may be the improvement of Justin Smoak who bats behind Cano and has made it difficult for opposing pitchers to throw around the former Yankee. Smoak, a switch hitter, is also above .300 in batting average and had 9 RBI's in the first 7 games.

Seattle began the season with a sweep of the Angels in L. A.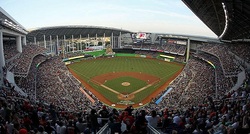 Miami Marlins

The Marlins began the year in South Beach taking 3 of 4 from Colorado and 2 of 3 from San Diego.

Their offense is a work in progress but if pitching and defense wins in baseball, they have the arms to remain competitive throughout the 2014 campaign.

The trio of Henderson Alvarez, Nate Eovaldi and Jose Fernandez all throw a mid 90MPH fastball.

Add in the somewhat erratic but still intimidating Carlos Marmol along with Mike Dunn in relief and the "Heat" in Miami will be as much about baseball as it is with hoops.

Milwaukee Brewers

As I write this story, Ryan Braun just hit 3 home runs in a win against the Phillies coming off a 3 game sweep of the Red Sox by the Brewers in Beantown.

PED speculation aside, a rebirth of Braun's bat could spark resurgence in "Brew Town".

The teams overall batting average is top 5 and their slugging percentage is ranked 6th.

They have capable starting pitchers too with Yovani Gallardo, Kyle Lohse and Matt Garza.

San Francisco Giants
One year removed from a World Series Championship in 2012 it already appears last year's poor showing was an aberration.
The return of Tim Hudson from a broken leg he suffered last July should bolster a good staff of starting pitchers including Madison Bumgarner, Matt Cain and Tim "The Freak" Lincecum.
They began the year going 5-2 in the desert of Arizona and the bright lights of Tinsel Town versus the Diamondbacks and Dodgers respectively.
No article regarding the top teams to open a season would be complete without at least listing one major disappointment (see below).
Boston Red Sox
There is no easier target for a poor start than that of last year's World Series Champ.
They lost the season opener to the Orioles and then, as previously mentioned, the brooms came out when they dropped 3 straight to the Brewers in Fenway.
To say there is a long way to go in the season would be a vast understatement, but the BoSox pitching must improve over the .282 batting average against stat compiled in the first 8 games.
Thanks for reading! Before you bet on baseball online, be sure to read our Online Sportsbook Reviews. We have dozens of bettors that constantly monitor online sportsbooks to guarantee you nothing but the best betting sites! Meanwhile there are also plenty of so-called "sportsbook review" sites that really just tell you who the best is, in the order of who pays them the most. Don't get burned, use our informative reviews before you bet online.