Many football teams are coming into the 2015 NFL season with high expectations. Some teams have been tagged with high expectations from the media and the betting public. But it's fair to assume that all 32 sides have legitimate dreams of winning the Super Bowl. With the start of the regular season right around the corner, we take a look at one potential dark horse from each conference who could find themselves in, or possibly even winning, Super Bowl 50.
AFC
Kansas City Chiefs
According to
GTbets Sportsbook
, the Kansas City Chiefs hold the 6th best odds of winning the AFC Division and the 11th best odds as far as being the winners of Super Bowl 50.
Head coach Andy Reid and his team will be eager to put together a strong season after missing the playoffs last year. Alex Smith and the rest of the offensive group weren't nearly as productive as they were supposed to, but expect things to change in 2015. With one of the best running backs in this league, the Chiefs will continue relying on the powerful Jamaal Charles to gain yards and score touchdowns, while tight end Travis Kelce, who led the Chiefs with 67 receptions for a team high of 862 yards and five touchdowns, is expected to keep on rising. With the addition of wide receiver Jeremy Maclin in free agency, whose period in Philadelphia was particularly productive, despite a serious knee injury, Alex Smith has some valid and reliable options surrounding him and all of a sudden this offense looks very dangerous. In an effort to protect Smith, open holes for Charles and solidify the offensive line, the Chiefs added Paul Fanaika, Ben Grubbs and Jeff Linkenbach to an already strong group.
Despite having a
powerful and incredibly talented defensive unit
, the Chiefs weren't light in selecting defensive personnel in this year's draft (two cornerbacks, two linebackers and one defensive tackle). Moreover, this defense (and this team) gets a huge improvement with the return of safety Eric Berry to the football field, a player who missed a big part of last year after being diagnosed with Hodgkins lymphoma. Linebacker Justin Houston is the superstar on the defensive side of the ball and opposing teams will have to prepare specially for him, as he is expected to have another spectacular season.
The Chiefs have a tough opening four-week period with three games on the road (Houston, Green Bay and Cincinnati) and a game against AFC West rivals the Denver Broncos in between. Coming out of this tough period with something in their pockets (which they obviously can) will be very important since, of the next four games, three are played at home (Bears, Steelers and Lions) sandwiching an away game against the Minnesota Vikings. Week 9 is their bye week and things don't get particularly easier after that (away at the Broncos, at the Raiders and at the Ravens, Chargers twice and a home game against the Bills) but in the final two weeks of the season, the Chiefs host the Browns and the Raiders, and they make the final push to secure a place in the playoffs and keep their dream of reaching Super Bowl 50 alive.
NFC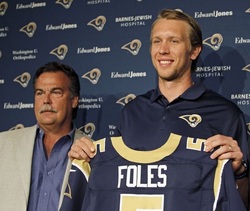 St. Louis Rams
According to
GTbets Sportsbook
, the St. Louis Rams hold the 12th best odds of winning the NFC Division and the 23th best odds as far as winning Super Bowl 50.
No one disputes the fact that Sam Bradford has the skillset to be a great quarterback in the NFL but he couldn't stay healthy, so the Rams addressed that situation in the offseason when they traded for Nick Foles and picked Mannion in the draft. Foles showed some very interesting and promising things in Philadelphia and one can argue that Chip Kelly's system was far from being the best for Foles' attributes. In St. Louis, with the young and talented receiving weapons at his disposal (Brian Quick, Tavon Austin and Kenny Britt), Foles can have a significant and immediate impact and offensively, this is going to be a team that will certainly surprise a lot of people. Drafting running back Todd Gurley was an audacious move from the Rams, but given his talent and his abilities, it's one that will pay off big in the near future. And while Gurley recovers from injury, Benny Cunningham, a player who is strong and effective between the tackles and provides an interesting change of pace, and the explosive Tre Mason will put opposing defenses on alert. The Rams offensive line, a young yet strong and aggressive group, has been reshaped in order to try to keep Foles on his feet and create valid opportunities for the run game.
Featuring 6 former first-round picks and 4 second-rounders, if there's one thing that's going to take this team to the promised land, it'll definitely be the defense. Here, everything starts with defensive end Robert Quinn, who is one of the best at his position in this league. And if Chris Long stays healthy, Quinn's impact will certainly be even bigger. At the linebacker position, the Rams have plenty of talent and this team's front seven could be one of the best in the NFL. The safety position seems to be in good hands, as the duo McLeod and McDonald have worked extremely well together, and Mark Barron appears to be a solid alternative. If this defense steps up to its true potential and rises to the challenge there's every reason to believe St. Louis will be a true playoff contender.
Four of their first 5 games
of the 2015 NFL season will be against teams that made it into the playoffs last year (Seattle Seahawks, Pittsburgh Steelers, Arizona Cardinals, Green Bay Packers) with the last two of those games (Cardinals and Packers) being on the road. Week 6 is their bye week and after that, three of four games will be played at home, all winnable games (Browns, Niners, Bears). This should be a perfect time for Nick Foles and his offense to put their quality on display and allow this team to grab some crucial wins. The Rams finish the season away from home against the 49ers, a rival team that is expected to take a major step back in 2015, which is a position that can naturally be occupied by this talented St. Louis Rams team.
For more information on where to bet on NFL teams for the season, see our sportsbook reviews.