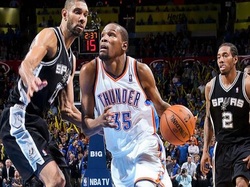 Ibaka is back!!!

I'm not sure that the above statement actually strikes fear into the San Antonio Spurs, but it should at least elicit strong concern.

The 2014 NBA Western Conference Finals between the Spurs and Oklahoma City Thunder resumes on Tuesday night. Game 4 at OKC will be available for viewing via TNT at 9:00pm ET.

This series began in Texas and it appeared that San Antonio would have little problem disposing of the Thunder.
Game 1 was a122-105 Spurs rout featuring the old man in the middle Tim Duncan's 27 point output.
Click here to get a 100% bonus at GTBets Sportsbook, the best sportsbook for US Players!!!

It was obvious Oklahoma City missed Ibaka's presence in the middle as the Spurs outscored them 66-32 in the paint.
Kevin Durant and Russell Westbrook combined for over half of the Thunders total points (Durant 28, Westbrook 25 = 53)
Things got even worse in Game 2 with, of all people, Spurs shooting guard Danny Green hitting 7 treys en route to a 112-77 San Antonio victory. Ibaka's absence probably wasn't the difference in this one but San Antonio did out rebound OKC to the tune of 53-38.
Enter Serge Ibaka in the series third game and suddenly the Thunder grabbed 52 boards to San Antonio's 36 and emerged with a 106-97 victory.
Durant, Westbrook and even rookie backup Center, Steven Adams actually had more rebounds than Ibaka with 10, 8 and 9 respectively. Ibaka's stat line read 15 points, 7 rebounds, 1 steal and an important 4 blocked shots during his 30 minutes of playing time.
So we enter game 4 at OKC's Chesapeake Energy Arena with the Thunder down 2 games to 1 but perhaps enjoying a renewed confidence with the return of their big man.
One element of Ibaka's return that may have flown under the radar was the Thunders overall aggressiveness.
If the Spurs are going to succeed on Tuesday night they will have to keep OKC off the charity stripe where the Thunder dominated in Game 3 with a 26-15 advantage. Durant and Westbrook alone both went 8 for 8 on free throws.
Other OKC players to watch will be the aforementioned C Steven Adams and PG Reggie Jackson. Jackson started for the first time in the series and took some pressure off the dynamic duo of Durant and Westbrook by scoring 15 points of his own.
SG Thabo Sefolosha and PF Nick Collison watched all of Game 3 from the bench after starting in the series first 2 contests.
Ibaka will need to play even better if the Thunders are to win their second in a row and Tony Parker will be the key if the Spurs are to return to the Alamo city leading 3 games to 1.
Parker scored in single digits (9) in the last game and seemed to struggle against the combo of Jackson and Westbrook's defense.
Oklahoma City has been posted as a 2.5 point home favorite for Game 4 at -$110.
The over/under is 207.5 total points with another $110 required to win $100.
Thanks for reading! Unfortunately if you like to bet online, like we do, there are still some sportsbook scams operating on the internet. Even worse, there are so called "review sites" that tell you who's the best by which betting site pays them the most to do so! That's a shame. We get sportsbook complaints almost every day, and they're usually players not getting paid. Every member of our site has been scammed in one way or another by a betting site in the past. That's why we put this site together, so it doesn't happen to you. If you're looking for the best of the best online sportsbooks, please visit our Online Sportsbook Review Page so that we can help find the right, trustworthy site for you.