When deciding where to bet on sports these days, two options reign supreme: One can either bet online or place their wagers through a local bookie. With that said, however, which one is the better option to go with? This article will delve into both the pros and cons of both options and show why sports betting online is the better option of the two.

Availability
One of the main differences that set sports betting online apart from betting through a local bookie is the availability of betting. With sports betting online, not only can one place a bet 24 hours a day, 7 days a week over the internet, but there is also a wider selection of bets to choose from as well. When it comes to betting through a local bookie, one has to wait until they are available before placing a bet, and while there may be a good amount of selections, they pale in comparison to what is available online. See our
Sportsbook Review
s page for a complete list of today's
best online sportsbooks
.
Odds
When it comes to sports betting online, one can trust that they are getting the most up-to-date odds in an unbiased manner. Can one say the same about their local bookie? As hard as it may be to realize, local bookies are there to make as much of a profit as they can, and if they can pick up on any sort of betting habits they may skew the numbers to be more in their favor at the end of the day. It may not be much, perhaps a half-point or so, but it could potentially mean a lot of money being lost that should have been won instead, and it is this aspect that also sets sports betting online apart from betting through a local bookie.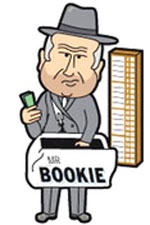 Wagering
Wagering offers both pros and cons for those who either go through a local bookie or through sports betting online. The local bookie may not require money up front when placing wagers, and may allow wagers to be taken on credit. When it comes to sports betting online, individuals must deposit money upfront and when the money is gone the show is over. However, what makes sports betting online unique is that many offer deposit bonuses and other perks for joining, along with numerous ways to deposit funds into an account, while local bookies generally do not offer perks and have limited ways to deposit funds. In fact, "funds" are often collected after a player loses, and if the player can't pay up, the bookie will find a way to collect one way or another.
Legality
Last, but not least, comes the legal aspect. While betting on sports over the internet with an online sportsbook is not considered illegal by US law, betting with a local bookie is. Not to mention many of the other illegal behaviors and techniques often employed by local bookies to ensure getting paid. One is much better off depositing a set amount with an online sportsbook, than digging a hole with a local bookie.
Click Here
To Find The
Best Online Sportsbooks For US Players
.
Overall
Overall, when it comes to where to bet on sports, sports betting online provides more availability, more accurate odds that are updated more often, along with perks to help new users get acclimated to sports betting online. Those who say that it can be difficult dealing with technology have obviously not tried sports betting online these days, where it takes only a handful of minutes to set up an account and start betting. Forget about the old ways of sports betting and embrace the new wave of sports betting online. You certainly won't regret making more money, right?