Something many people don't realize is that while you have the ability to bet on just about any professional sport, some sports actually provide you with higher chances of winning! Many people don't spend the time to calculate the odds and draw the conclusion that NBA betting is the most profitable, because it's the easiest to win back your money on. Unlike baseball, hockey, and football, with basketball it's not over until it's over. With almost every game, there's a chance to come back and have either team win. This fact alone provides you with higher odds of winning because the chances of a blowout are slim to none just because of how the sport works.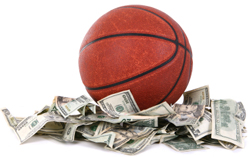 Let's break this down into a physical example to help you better comprehend this concept. For instance, if you were to bet a -6 point favorite on a baseball game, how likely do you think this is to happen if you have just half an inning left? The correct answer is, not very likely. This is because the chances of scoring 6 runs in one inning isn't nearly as high as scoring 6 points in basketball with even just 1 minute left in the game! Are you starting to grasp the concept here? Keep in mind, that the other team is also able to score, but it's much more plausible for more points to be scored in less time at a basketball game as opposed to any other sports game. This is simply because of how the games work, there's not much more to it!

If you're still not grasping it, lets try another example to run the point home. Think of it this way, it's halftime in both football and basketball, it's the top of the 6th in baseball, and the second period is about to start in hockey. Now take a look at the following bets and tell me which one is the best choice for you to be gambling on:

A) Your team that you placed a bet on in football is down by 21 points.

B) Your team that you placed a bet on in baseball is down by 7 runs.

C) Your team that you placed a bet on in basketball is down by 24 points.

D) Your team that you placed a bet on in hockey is down by 4 goals.

If you answered C, then you're correct! If you look at how NBA basketball works, you'll find that it's not uncommon for a team to go on a run and score a string of points all in a row. On the other hand, for that to happen in any of the three other sports is highly unlikely. Not that it can't or hasn't ever happened, but it's much less likely if you simply look at the facts. This being said, don't you think it'd be wiser for you to take the safest bet possible? Most people would agree with that when their money is at risk, so if that's the case, basketball is the way to go!

There's also another option for ways that you're able to bet at a sports casino. You can place a bet on the total score of a game in hopes that you'll either get over or under the total score correctly. Even if you're not into basketball, it's worth spending some time getting to understand the game, because not only is it great entertainment, but it's also a gold mine just waiting for you to tap into! There are so many people who can't wait for the season to start every year because they know it means money in their pocket from their gambling skills. You'll never know how good you are until you try, so get out there and start playing the field and see if you can get a feel for the game! Give it a shot and most of all have fun doing it!