SportsBettingOnline (SBO) Review
SportsBettingOnline is one of the better new betting sites to come into play in recent years. Even though it is one of the more recently established online gambling websites on the internet today, SportsBettingOnline has top-notch management that includes such individuals as Dave Johnson, who has over 15 years of experience within the industry consulting with some of the most successful sportsbooks. SportsBettingOnline is located in San Jose, Costa Rica, and has one of the most interesting promotions in the industry today, which will be discussed as part of an overall review below.
Click here to get your 10% weekly cash-back bonus at SportsBettingOnline!
SportsBettingOnline (SBO) Sportsbook Review
SportsBettingOnline offers a tremendous amount of sports to bet on in their sportsbook, including NBA, MLB, NHL, NFL, soccer, horse racing, tennis, boxing, MMA, and handball to name just a few. The company also offers a wide array of wagering options to choose from, such as straight bets, teasers, parlays, reverses, moneylines, futures, and many more. Minimum bets are $5 is they are made online and $25 by phone, and maximum bets range from sport to sport, with the highest being $3,000.
General Information
Currently accepting both U.S. and international players, SportsBettingOnline offers fast and efficient ways for players to both deposit and withdraw their funds. The company offers three different ways of depositing funds, which include Visa, person to person transfer, and money order. Visa requires a minimum deposit of $50 with a maximum of $250 per day, and there are no fees involved. Person to person transfer has a minimum of $25 and a maximum of up to $1,500, with no fees for deposits that are at least $100. Lastly, money orders require a minimum of $100 with a maximum of $1,000, and there are no fees involved with this method either.
There are two withdrawal methods to choose from when it comes to SportsBettingOnline, person to person transfer and money order. Person to person transfer has a $50 minimum and a $999 maximum, while the money order has a $100 minimum and a $1,000 maximum. What is great about both methods is that they offer one free withdrawal every 30 days so that one does not have to pay any sort of fees when they withdraw their winnings.
---
SportsBettingOnline (SBO) Bonus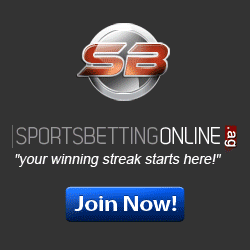 What really makes SportsBettingOnline unique are their promotions. While they don't offer match bonuses for first deposits or reloads, what they do offer is 10% cash back every week whether one wins or loses, no questions asked. It seems too good to be true that a company would literally pay you back for every wager made, but SportsBettingOnline does it, and with no rollover requirement as well. The only stipulation is that one has to make at least five bets per week to earn the bonus. Along with this great promotion SportsBettingOnline also provides numerous promotions for particular sports throughout the year; for instance, they have a $10,000 bracket buster for the NCAA Men's Basketball Tournament in the month of March. SportsBettingOnline also provides mobile betting so that can make wagers and access their account from their iPhone, Android, or Blackberry device within minutes.
Click here to get your 10% weekly cash-back bonus at SportsBettingOnline!
---
SBO Casino Review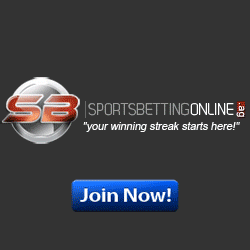 SportsBettingOnline (SBO) Casino

SportsBettingOnline's casino has over 30 games to choose from, including table games such as blackjack, baccarat, and American Roulette, to video poker and slot machines. Unfortunately the site does not offer live dealer action, but it does offer the opportunity to either play for fun or for real money, so one can get a feel for how each game is played before wagering money. What is also great is that each game has detailed instructions below it so that those who may not be familiar with games such as Pai Gow Poker can quickly and easily ascertain how to play. When it comes to bonuses, the 10% cash back promotion applies to all casino games. Minimum bets are as low as 5 cents with the maximum set at $200.

Downsides

There are basically three downsides when it comes to SportsBettingOnline. The first is that while there are practically no fees involves, the site offers very few deposit and withdrawal options to choose from as opposed to many of the top online wagering sites out there today. The second is that SportsBettingOnline does not offer live dealer action in their casino, which is something that one would expect from a site that is led by someone who has so much experience in the industry. The last downside is that even though the site offers a fantastic cash back promotion every week, it is the only real one available. Some may prefer having match bonuses for deposits and reloads along with other promotions such as a loyalty program, which SportsBettingOnline currently does not offer.

---